Thomas Ronald King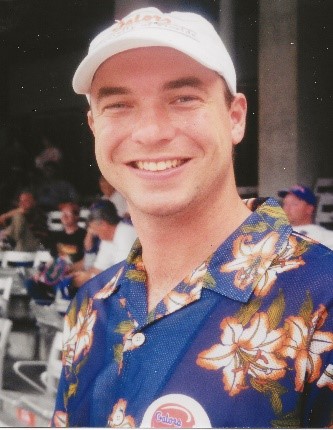 Born August 26, 1974 in Wauchula, Florida
Departed April 29, 2022 in Cocoa Beach, Florida
Thomas Ronald King was born August 26, 1974, in the small town of Wauchula Florida. He was 47 years old when he passed away, April 29, 2022, surrounded by his family. Bill King, his father preceded him in death as did his brother Kevin and his grandparents. He is survived by his son, Tyler King; his mother Deborah Bussendorf King; stepfather Carl Griffin; sister Susan King Prohaska, her husband Nick and children Bryce and Luke. His surviving family also includes several aunts, uncles, cousins, and his puppy Chloe.
As a child, Tommy lived in Tampa for several years resulting in him becoming a life-long Buccaneer fan. After his father's death, the family moved to Brevard where he attended Satellite High, graduating in 1992. He went on to the University of Florida, earning a BA in Business Administration. Oh, how he loved everything Gators!
His winning personality made him a great salesman after college. He worked with major manufacturers around the country and in Europe; most recently concentrated in the aerospace industry.
Music was Tom's passion outside of sports. He always looked for meaning in the lyrics, trying to understand the story and the emotions. He attended concerts in a wide range of genre: Rock, Jazz, Funk, Reggae, even Country. DMB was his favorite, saying, (more than once) that the best singer, song writer ever is Dave Matthews! Tommy experienced the music on other levels when playing the bass guitar and mixing songs on his turntables.
An active member of Church at Viera, Tom sought a strong relationship with God, his family and peace within himself. He bonded with the men of MPACT and reached out to other men at the CITA mission.
Tom's life included many good business deals, great concerts and fun times, but he would say that his greatest accomplishment was his son Tyler. He loved being a Dad most of all!
A celebration of Tom's life will occur at 4:00 PM on Saturday, May 14, 2022 at Church at Viera, 9005 N. Wickham Rd, Viera, FL 32940.
In lieu of flowers, please consider a donation to MPACT ministries who shares with CITA. https://mpactministries.networkforgood.com/projects/160157-tommy-king-memorial-fund
15 entries.
Tommy, was always willing to catch up when I drove by his home. Help my family move into our home. And sat on my couch as are other friend Tye helped me carry our piano. Making sure to tell us we were doing a great job carrying that piano through the house. But my favorite moment of Tommy's life was when he relished in the reality of this identity in the Gospel of Jesus. It was like he would glow in those moments talking about being free to walk in grace as a son of the Kingdom of Heaven. Love ya Bro, until next time. Timiy & Heather West
Deepest condolences. Tommy was loved by everyone who had the pleasure of knowing him. I'll hold onto so many memories. May he rest In peace.
Love you forever my brother! I will see you again someday! Continue to bring light and life to the world.
We met Tommy in 2005 through our mutual love of the Dave Matthews Band. We shared a lot of laughs and friendship over the years and were stunned to hear the news. We will remember him always. Our deepest condolences to you all. The world was a better place with Tommy in it and we have no doubt that heaven is too. Much love and peaceful prayers.
Dear Debbie and family! We are praying for you all and asking God to grant you his peace! Sending our love and prayers! Garey and Susan Ford PS So wonderful to think that Ron and Joyce would meet your boy there as he came home to heaven! Love you!
I miss you and the E-bike rides. It was always nice to see your smiling face at Blue Origin when you were on site. You were always a special, kind, and caring. I miss you very much!!!!
A born again Christian, who truly gave his life and everything to me personally when I needed it the most. I love to Tommy and will never forget so many great memories we shared. You mean so much to me and my family. I pray that we meet again on "The Otherside"
A born again Christian, who truly gave his life and everything to me personally when I needed it the most. I love to Tommy and will never forget so many great memories we shared. You mean so much to me and my family. I pray that we meet again on "The Otherside"
We will miss you Tom but rejoice that one day we will be reunited with all the saints. All our love and prayers to the entire family. Aunt Cathy and Uncle Bruce
One thing I want Tyler to know is the last time I stopped by to visit with Tom he was showing me Tyler had recently moved in with him. He was so excited about it. We were sitting out back talking and he told me how proud he was of Tyler. He shared he was working at Grill's Riverside and had his own car and just doing really well. Tom loves that boy so much and I just want Tyler to know how proud his father really is of him.
My heart is with Debbie and the King family.
My love goes out to all of Tom's family and friends. I'm praying for all of you to find comfort from God and each other during this sad time!
Love and prayers to Tommy's family and friends.
I cannot put into words the love I have for Tommy. So many memories from funny to sad and everything in between. He would "scope" out boys for me and my friends in Clearwater. He made me laugh harder than I thought I could. But through my own personal trials the last few years, he always seemed to know when I needed "that" text from him. That text that would make me smile, laugh, think about things differently, or just let me know he loved me and it would be alright. My heart is broken that I will never get one of those texts again. Fly high Tommy! I love you and I will see you later! "If you give him what he wants, he won't cry"- Bill King about his precious son Tommy.