Timothy J. Biddle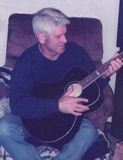 Born in Kendalville, Indiana on September 17, 1955
Departed in Melbourne, Florida on December 9, 2018
Timothy J. Biddle, 63, of Melbourne passed away on Sunday, December 9, 2018.
He was a retired Master Sgt. USAF at Air Force Technical Application Center PAFB after 24 years and later a Field Project Manager/Administrator at Italian Terrazzo and Tile in Melbourne. He also was a member of the Jeep Club.
Survivors include his wife, Marie; daughter, Mieko (Brian) Barker; granddaughter, Jordan; mother, Retta Biddle; sister, Cathy (Steve) Diehl; nephew, Chris Diehl; niece, Emily Felty and brothers in law, Mike, Jonathan and Mitchell Dochterman.
A celebration of his life with USAF Honors will be held on Saturday, January 19th at 4pm with a visitation before from 3pm until 4pm in the Brownlie-Maxwell Funeral Chapel.
You will be forever missed and forever loved.
19 entries.
After 4 years (WAY too long) I found this tribute to my dear old friend Tim. I knew him longer than anybody else during my entire Air Force career. I am deeply saddened to find that he left us far too soon. Over the years I entertained thoughts of how to get in touch again but sadly I never did anything to pursue it, despite making several trips to Florida since my retirement. MARIE, if you happen to see this entry, please know that I have thought of both of you many times over the years, with fondness and only the best memories. I wish you and all the family all good things in life.
Although we have been in touch for a long while, Tim was my software trainer when I first arrived in AFTAC. He was tough. If I asked a question a second time, he'd point me to the documentation where I could look up the Answer. We played a lot of racket ball back then and I don't remember a game I won. I'm so sorry for your loss Marie and family.
With our Deepest Sympathy. Thinking of you all during this time.
I don't know if Tim ever realized it but his plans on one day of his life forever changed his and my life. Thank you Tim.
Dolores and I are so sorry to hear about Tim's passing. Our heartfelt condolences to Marie, Mieko, and family. Like so many of the magnificent men and women assigned to AFTAC, Tim brought his own set of skills and natural ability to the mission. I agree with how family, friends and fellow AFTAC-ers have characterized Tim. I would add "a great listener" to those qualities - qualities which proved indispensable as a HQ/SC 99 adviser and programmer. For an all-to-brief period of time, I was privileged and honored to work in a supervisory capacity with Tim. In so doing, I grew to admire him both professionally and personally. I will always remember and honor his memory with great affinity and the utmost respect. Rest in peace my AFTAC brother - "In GOD we trust...."
My most heartfelt condolences to Marie and family. Losing another of the "99" family just....hurts. Rest well, Tim.
I met Tim in Alice Springs, Australia and still recall going to his and Marie's wedding on ANZAC hill. Tim was a very quiet but competent individual who did everything extremely well, especially his art and running. He will be missed by all and my sincere condolences go out to Marie and their family. Rest in Peace Tim.
We are so sorry, Marie. Tim left a great impression on everyone he met. You and your family are in our thoughts and prayers.
Marie - I am so sorry to hear of the loss of your much love Tim. May your memories carry your thru this difficult time.
I send my deepest sympathy to Tim's loving family. I met Tim at Patrick as we worked the Watch together in the late 90's. His work ethic and warm sense of humor made a lasting impression on me. May you rest in peace my friend. Brian
Tim was a great guy we had the privilege to know as a friend and fellow airman at Det 421 in 1978. He was always a pleasure to be around. We will all miss his great sense of humor. Our deepest condolences to Marie and all his family.
Sincere condolences to Marie and family. I have known Tim all my Air Force career and worked with him in the Directorate of Operations. He was a very respected Senior NCO and always a big supporter of the Booster Club and the Junior enlisted. Tim positively influenced many of us and was interesting to be around. Rest In Peace.
My heartfelt condolences to Marie and all of Tim's family. I remember Tim for his gentleness, kindness, intelligence, and, let's not forget, his artistic talents. RIP Tim Sincerely, Chuck Conrad
Marie, Joyce and I are greatly saddened by Tim's passing. We cherish our memories of your friendship and association. Clark and Tim ran their first marathon together at Gainesville in March 1980. They shared a lot of time and experiences in their running; we will always remember that Tim Biddle smile! May God bless you with peace and comfort during these times of trial and sorrow. Our prayers are with you and your family. Clark & Joyce
I first met Tim at Det 421 in the late 70s and crossed paths through the years at Patrick. Tim was a quiet, humble guy who was great at his job and all his other endeavors. I am very sorry to hear of his passing. My sincere condolences to Marie and family.
I worked directly with Tim in Australia in 1977-78, and "down the hall" from him at AFTAC in the late '70's. He was a good workmate and a nice guy to be around. We will miss him. My condolences and prayers to his family. Bob Chadwick
We will forever love and miss you, your warm and giving heart, your strength, your wisdom, your laughter, your cooking, when you crank up a good song, your artistry and your love for your family and friends. I love you with all of my heart! I am so thankful for every single moment we had with you! Your loving daughter, Mieko
Rest in eternal.peace Tim. Such a sad loss, a great guy. My thoughts & prayers are with you, Marie & Mieko, & all his family.