Toby Platt
Toby Platt
Toby was born Walter Edward Platt in Melbourne, the fifth of six children born to Cecil Emerson Platt and Edith Hazel King Platt. He grew up in West Melbourne and died at his home in West Melbourne with family at his side.
He graduated from Melbourne High School where he was very active in sports. He received a scholarship for college in baseball but he chose to stay home and work the ranch with his father. He also had another love, homecoming queen, Carlyn "Pat" McPherson. He married his high school sweetheart and Toby and Pat were married December 23, 1956 in Melbourne
He loved the rodeo and was an accomplished bronc rider in the rodeo circuit. He and his brother Johnny put on a rodeo in Melbourne in late 1950's. He continued to follow the rodeo until his death.
After he graduated from high school in addition to working the ranch with his father he was a Fire Fighter at Cape Kennedy Fire Department and retired from there (now known as Johnson Controls) after 36 years in 1992.
After he retired he became a full time cattleman. His passion was cattle and he loved the ranch life and instilled it into his children and grandchildren. When we worked cattle he was active up until last year. You messed up in the cowpens he let you know it right quick.
He was involved in several community activities. He was a GWMAA Coach , he coached flag football and girls softball teams. He was involved in the Jaycees, Trail Riders Club, High School Rodeo, Florida Cattleman's Association.
He loved the outdoors and he was an avid hunter & fisherman. He and his wife would go fishing as much as possible until they were no longer able. He was also a very passionate Gator fan too. He and Pat were season football ticket holders for several years and many tailgate parties. They would continue to watch the Gators in all sports for the rest of their lives. "Go Gators"
He was a Christian and he loved Jesus. He was involved in the Bus Ministry at Bethany Baptist Church in the 70's. He was a Deacon at June Park Baptist & more recently Heritage Baptist.
He loved his family and he showed his family how to love, be respectful, be a hard worker, and to live an honest life. Family always came first. He would remember when a handshake was as good as a man's word and his word was golden!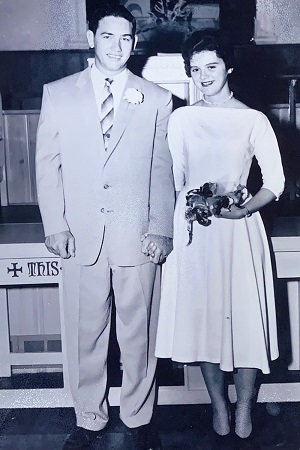 He is preceded in death by his daughter Patricia Diane Platt, his parents Cecil & Edith Platt, his sisters & brothers. He is survived by his wife of 64 years Carlyn (Pat) Platt who joined him 6 days later, his daughters Rhonda Platt Hammer (Mike), Scarlet Platt, Tobie "Julie" Platt Harrison (Doug), his grandchildren Mike Hammer (Angelina), Casey Rebensky (Amanda), Brandon Rebensky (Jenna), Brittany Hammer and Josie Harrison, great grandchildren Colin Rebensky, Austin Taylor, Abigail Rebensky, Brandon Rebensky, Jace Hammer, Jacob Rebensky, Landon Rebensky, Marlin Rebensky, and Kason Caudill and many cousins, nieces & nephews.
Funeral Services for Toby & Pat will be held at 2:00 Saturday August 28, 2021 at Bethany Baptist Church 1100 Dorchester Ave, Melbourne 32904. Visitation from 1:00 to 2:00.
Interment to follow at Melbourne Cemetery. Celebration of Life to be held at Camp Holly.
Pallbearers Mikey Hammer, Casey Rebensky, Brandon Rebensky, Dan Platt, Cecil John Anastasio, Doug Harrison, Sleighton Meyer, and Mike Nida
Honorary Pallbearer Hank Wells
In lieu of flowers, donations can be made to the Brevard County Cattleman's Association.
11 entries.
Toby will be missed. he was a friend and class mate. He and all of the Platt family were were all very nice people. Gods peace be with the family.
We have lost some outstanding, founding family members. West Melbourne will never be the same. May God give comfort to the family at this time of their bereavement.
Thank God we had privilege to meet and attend church with Toby and Pat. Both wonderful people. They will be greatly missed..
We will miss Toby and Pat so much I remember our Heritage Baptist get together's . We Baptiste love to eat. Brother Toby would always ask me if I was bringing homemade chicken and dumplings.and if he could take left overs home. Of course, I always made extra. Sister Pat loved the cherry delight. Such wonderful friends and brother and sister in Christ we will miss them.
Two of the nicest people I ever met. I was an honor to know them.
I remember Toby from many years ago.
So sorry for your loss my prayers are with you and your family.I knew your mom and dad from going to church with my mom. I know they will surely be miss.
Heaven gained an amazing couple. Hugs and prayers for your family.
It meant a lot to Mike and I when your parents came to support us when a Chris was born. Mike's mom couldn't be there because of a death in the family. You parents were very supportive and we appreciate them. God bless you and your family and may they have eternal peace. They were soulmates until the end.
Such wonderful people We had so many good times
So sorry to see that you have passed my friend. You were such a great friend and will be missed by so.many. God Bless