Virgie Lucille Reed Ridenour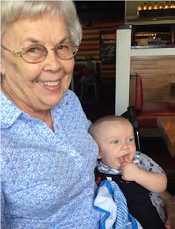 Born on November 11, 1935 in Loudon County, Tennessee
Departed September 10, 2022 in Rockledge, Florida
Virgie Lucille Reed Ridenour, beloved mother and mamaw, passed away on Saturday, September 10, 2022, after a long struggle with Alzheimer's. She was eighty-six years old. Born on November 11, 1935, in Loudon County, Tennessee, she moved to the Melbourne area with her husband, Curtis F. Ridenour, in 1956 as newlyweds. They first lived in a small cottage on Fifth Avenue in Indialantic. She worked at the Bank of Melbourne in Downtown Melbourne as a teller and Curt worked for Pan American as a security guard at the Cape. It didn't take long to realize that even though Curt could walk to the beach to fish, they needed more room. They moved to a house in West Melbourne where they lived and loved for almost 50 years.
Virgie and Curt were charter members of the First Baptist Church of Indialantic. They moved their letter to the former West Melbourne First Baptist Church and were very active in their church family. Years later, they became members of First Baptist Church of Melbourne and continued to be very active in the church. Virgie used her sewing skills as a member of Patchwork of Grace and participated in missionary trips to West Virginia and Romania. She also worked in the nursery at First Baptist of Melbourne for years being known as "Miss Birgie" by many of the small children in the church.
Curt was an avid gardener and Virgie canned and froze many of the vegetables he grew. Her hobbies included ceramics, sewing, and gardening. She loved quilting and making accessories for their home. Her love of children continued with her three granddaughters knowing they had a second home with their grandparents, Mamaw and Papaw.
She is survived by her son, Keith Ridenour, daughter, Melinda Gerding (Joseph), three granddaughters, Amanda Bridges (Mark), Ashley Schnetzer (Aaron) and Kathleen Gerding and two great-grandsons, Wyatt and Owen Bridges. She is preceded in death by her parents Fred and Lily Reed, sisters Jewel, Mildred and Jean, brother Eugene, husband Curtis and son David.
Virgie spent the last few years of her life at RiverView Senior Resort in Palm Bay. She succumbed to her battle with Alzheimer's shortly after her arrival at VITAS Inpatient Hospice Unit in Rockledge. The family wants to thank all the wonderful staff at RiverView and the caring hospice workers from VITAS who worked with her at RiverView and the Inpatient Unit.
There will be visitation for family and friends on Friday, September 16, 2022, at 5:30 PM followed by a Celebration of Life service at 6:00 PM at Brownlie-Maxwell Funeral Home, 1010 E. Palmetto Avenue, Melbourne, Florida. Burial services will take place on Monday, September 19, 2022, at 2:00 PM at Florida National Cemetery in Bushnell, Florida. In lieu of flowers, the family is requesting tribute donations to the Alzheimer's Association.
5 entries.
What a great friend she was to our family...Her smile was contagious and love for children will always be in my memory. She was a loving babysitter to our Debi, Greg and Wayne...She will never be forgotten by our family....
Hadn't seen Aunt Virgie in many years but loved following your visits with her on FB, Melinda. Love to all. She was a wonderful lady and the family loved her very much. We will definitely make a donation as requested in her honor. Love from Becky and Sue in AZ
Sweet Virgie, thank you for all the times we spent together at RiverView. The memories of you singing old gospel hymns with Melinda and me are now treasured memories. The way you smiled when you looked at Melinda and said to me, "Watch her. She's trouble," will always put a smile on my face as I think of you. You are now with Jesus in Paradise. Will see you again, my friend.
She was a wonderful sister-in-law. Love to all the Ridenour Family. Aunt Ruth
We will miss you with all our hearts and thank you for being a guiding light for your children and nieces and nephews as we were growing up.