Virginia Lynn Ferrer Zuch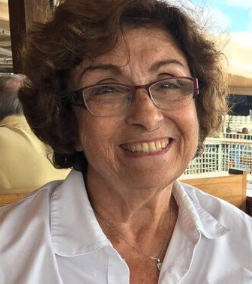 Born in Newark, New Jersey on October 16, 1942
Departed in Rockledge, Florida, on May 5, 2019
Virginia Lynn Ferrer Zuch, 76, of Melbourne, died Sunday, May 5, 2019, with her family by her side at hospice.
Born in Newark, N.J., on Oct. 16, 1942, to Alfonse and Ida Mae Ferrer, Ginger grew up in Union, N.J., and later moved with her family to Miami. She attended Southwest Miami High School (class of 1960); earned a bachelor's in elementary education from the University of Florida in 1964; and earned a master's in counseling from Florida Atlantic University in 1987. She taught GED and ESOL classes to adults in Broward County and later worked as an economics assistant for the United States government.
In 1999, Ginger moved to Melbourne, where she was a member of Ascension Catholic Church and the Watercolor Society of Melbourne. An avid painter, she often incorporated Florida fauna and wildlife in her watercolors. She loved to dance, and with her husband, Gene, spent time on the dance floor on special occasions. The couple also enjoyed attending concerts at the King Center for the Performing Arts. A faithful Catholic Christian, Ginger attended Mass regularly and was a student of the Holy Bible and the teachings of Christ. She expressed her affection for her family by painting them in watercolors in addition to sending traditional cards to each child and grandchild at Christmas, Easter and birthdays. Most people commented on her beautiful smile upon meeting her. Her gentle, compassionate and playful spirit were also praised.
She is survived by her husband of nearly 16 years, Eugene Laurence Zuch of Melbourne; her daughters Margie Glass of Coral Springs, Joanne Beyke (and husband John) of Port St. Lucie, and Danielle Provencher of Lake Worth; her grandchildren Joshua Beyke of Gainesville, Cameryn Glass of Coral Springs, Johnathan Beyke (and wife Fumei) of the United States Air Force, and Jordan Beyke of Port St. Lucie; one great-grandson, Clayton Kodetsky of Port St. Lucie; a sister, Judy Ferrer-Johnston of St. George, Utah; and various cousins, nieces and nephews. She was predeceased by her brother, Ronald Ferrer, and a grandson, Aaron Glass.
Memorial services will be held at 11:30 a.m. May 13 at Ascension Catholic Church, 2950 N. Harbor City Blvd., Melbourne. Inurnment at Ascension Memorial Garden will follow in the future. Brownlie-Maxwell handled arrangements.
10 entries.
Dear family, I am very sorry for you loss. It is my hope that you receive comfort through God's word, there He gives us the comfort that we need , especially when we grieve. Through His words of Hope, He promises at Acts 24:15 that there is going to be a resurrection. Promises like these strengthen us and help to heal our grieving hearts and minds. We also have His loving and kind words found at Isaiah 41:10 that also gives us the comfort . It says in part, " Do not be afraid , for I am with you . Do not be anxious, for I am your God....I will really hold on to you with my right hand of righteousness". My prayer is that you find comfort and peace at this time through God's word and also beautiful memories.
Memories of my warm effervescent and ever smiling friend take me back to our teenage years together. So many good times shared. A very special person and friend who will be truly missed. Condolences to Gene and the rest of the family.
Danielle, you obviously inherited your mom's zest for life and adventure. I know she's proud. Condolences to you and your family.
My sincere sympathy to Gene and family. Wish I could be there With you at this time. My thoughts and prayers are with you. I will never forget my wonderful friend. Rest In Peace Ginger.
What a lovely, gracious woman Ginger was. I feel fortunate that I knew her. With deepest sympathy. Barbara
Danielle and family my thoughts are with you. Hayden
My Sincere And Deepest Condolences Go Out To Your Entire Family. Especially Margie, Joanne, And Danielle. I have Fond Memories Of Your Mom During My Teenage years. You All Have been a Part of My Life for the past 35 plus Years. I Love you All Very Much. I Will Keep Your Family In My Prayers During This Very Difficult Time:(🙏🏻🙏🏻😓 Monica Aponte Erb
Ginger was a dear friend for many years. We appreciated her kindness, wonderful sense of humor and optimistic view of life. Her deep faith sustained her through life's tough moments. She will be missed. RIP dear friend.
Ginger was a big part of my happy memories of life in the Ferrer/Palumbo family. My condolences to Gene and her daughters.
My dearest mother. I am so sad you are gone, but I carry you with me always. Your spirit, your smile, your silliness are forever in my heart.