Walt Doucette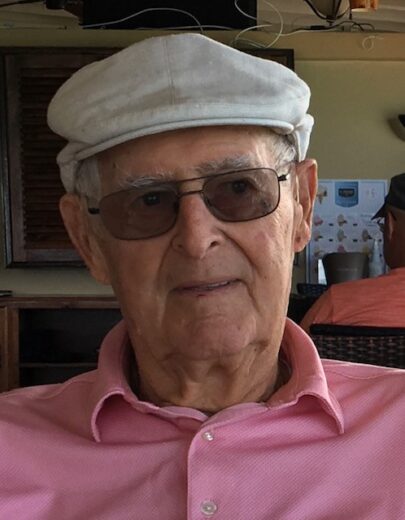 Born on January 27, 1929 in Concord, Massachusetts
Departed December 31, 2022 in Melbourne, Florida
Walt Doucette, 93, of Melbourne Beach, Florida, passed peacefully on December 31, 2022 in Melbourne, Florida with his loving wife of 70 years by his side. He was born on January 27, 1929, in Concord, Massachusetts to Fred and Lucille Amirault Doucette.
He is survived by his loving wife Norma Doucette; his sister-in-law Linda (Carl) Logiudice of Melbourne Beach, Florida; his brother-in-law Roger (Marjorie) Arsenault of Newton, Massachusetts; and his sisters-in-law Heather Gentile of Raymond, Maine, Charlene Gentile of Bullhead City, Arizona and Carol Gentile of Worcester, Massachusetts, as well as many nieces and nephews.
He was preceded in death by his parents Fred and Lucille Amirault Doucette; his sons Michael and David; his brothers Bill Gentile, Leonard Gentile and Edward Gentile.
Walt served honorably for 20 years in the United States Air Force. He was a member of Immaculate Conception Catholic Church where he served as an usher for 40 years.
Walt was a devoted husband who adored his wife with all his heart. Everyone who had the honor to know Walt loved his sense of humor, his loyalty, his love for the Catholic Church, integrity and gentle demeanor. He will be remembered for his hard work, dedication to his family, his Church, his country, and by his love of golf, bowling, bocci and corn toss.
His Funeral Mass, with USAF honors, will be held at 11:00 am, on Tuesday, January 17, at Immaculate Conception Church, 3780 SR-A1A, Melbourne Beach Florida 32951.
9 entries.
So sorry for your loss Norma.
We are very sorry for the loss of Wally. He was a wonderful, kind and caring person, always looking out for others. May he rest in peace. May your many wonderful memories help you, Norma, and all of your loved ones, as you go through this time of mourning. You were great neighbors. We will miss you, Wally.
Angela and I are so sorry to her about Wally's passing and send our condolences. We really enjoyed our time with Wally and Norma during our time at the A1A Park while visiting our good friends Carl and Linda. Wally had no shortage of interesting life stories to share with us. Wally will be missed, but lives in our memories. John and Angela Sarnosky ❤️
Sorry for your loss Walter was a great person and loved his family. Norma know he will always watch out for you.
Walt was a wonderful man. He will be missed.
Walley always had a smile and a joke and welcomed us when we visited. We especially remember him for his love for Norma. We are holding Norma and his other family members in our hearts with love.
We will always remember Wally and Norma fondly. Our thoughts and prayers go out to Norma and we hope to see you soon. Wally will be sorely missed.
Our sincere sympathies to Norma on the loss of her beloved husband. He will be fondly remember by his (Amirault) cousins here in Nova Scotia. RIP Cousin Walter
I will miss Walt, a lot. Always enjoyed playing golf with him. Prayers, Love to the family. Love, Pam L.