Walter Omainsky, MD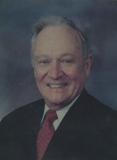 Born in Copitz, Germany on October 28, 1923.
Departed in West Melbourne, Florida on September 21, 2018
Walter Omainsky, MD, 94 of West Melbourne passed away on Friday September 21, 2018. He moved here in 1957 from Miami and was an MD in South Brevard from 1957 till 1993. He served with the 16th US Army from 1943 – 1946 in the European Theater of operations during WW II with service at The Battle of the Bulge, a member of the United Methodist Church, Life member of The Brevard County Medical Society, Florida Medical Assn. and The American Academy of Family Physicians and an Honorary Member of the medical staff at HRMC.
Survivors include his wife Barbara Jean Omainsky of West Melbourne a son Robert W. Omainsky of Mobile, Ala. Daughters Amy M. Deegan of Canton, GA, and Meg A. Omainsky of Gilroy, CA. stepson Robert L. Hankal of Melbourne, Fla. and many grandchildren and great-grandchildren. He was predeceased by his son Scott.
Calling hours will be Tuesday September 25th from 5pm-7pm with a funeral service on Wednesday September 26th at 2pm in the Brownlie-Maxwell Funeral Chapel.
17 entries.
Amy, Bobby and Meg, I just recently heard about your dad's passing. I wanted to pass along my condolences. I have fond memories of him from our childhood, including neighborhood and swim team activities. All the best, Joel
Dr. Omainsky was our family doctor in Eau Gallie, Fl. from 1958 - 1966. He delivered our 3 sons. We are Jewish and he circumcised all of them in his office. He was the best doctor we ever had. Our condolences to his family.
Our family physician for many years. My parents thought the world of him. RIP.
All of you are in my thoughts and prayers.
He was my doctor growing up till he retired great caring man
We are so sorry for your loss. We are so humbled by his service to our country. Our gratitude for him will be forever in our hearts. Then to go on and leave a legacy of a fine family. Your in our prayers
Doc, I am so very proud to have been a part of your family.you were such an inspiration to many with your accomplishments through your life. You will be dearly missed.God bless till we meet again.
Bob, So sorry to hear about the passing of your father. Our condolences to you and the family. Don and Tina
To a most wonderful man with many accomplishments who left this world a better place because of them.you will be be missed dearly Doc.
I love you always and forever grandpa rest easy handsome you will always hold a special place in my heart
Walt was a great neighbor and doctor. Rest In Peace, Walt
This man, Dr. Walter Omainsky was the best, most caring, Doctor in the world. I have 3 wonderful children and he delivered them all. You will be a wonderful addition to God's Choir of Angels. Rest in Peace Dr. Omainsky. Love you. June Knight
Dr. Walter Omainsky was a great doctor and man who will be missed. I'm blessed that I was one of his patients since I was a little girl. Love and prayers for his family.
Dr. Omainsky, My neighbor, my Godfather and my friend for 60+ years. So many wonderful memories over the years. You were so loved and will be so deeply missed by so very many people. Rest now and be at peace. Amy, Bob and Meg, my thoughts and prayers are with you now and always. Love Bo
Dear Bobby and Amy, We have so many fond memories of your dad. He was like family to us and provided us many years of quality health care. He was more than just a Dr. to us, he was a beloved friend. We certainly will miss him. May he rest in Peace.. With much love, Fred and Barbara Weiser
Amy, Bobby, Meg and family we are so sorry to hear of the passing of your dad. He was our beloved doctor many years ago and we will never forget all the things he did for our family. He raised 4 amazing children and I was blessed to be able to spend many mornings and evenings in the pool with Bob and Amy at swim team practice. We loved your family and will never forget the wonderful memories of our youth. Rest in peace Walt!!
It was a pleasure having you as my Boss, Mentor, and most of all my Friend, for so many years. With my heartfelt sympathy to Jean and the rest of your family, I send my thanks and love....Carol Burrell.