Wilhelmina "Billie" Mixon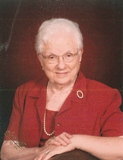 Born in Springfield, GA on March 20, 1923.
Departed in Palm Bay, Florida on April 12, 2018
Wilhelmina "Billie" Mixon, 95 years old, went to be with her Lord on Thursday, April 12 at the William Childs Hospice House in Palm Bay, Florida. Billie was born March 20, 1923 in Springfield, Georgia to Marie and Daniel Gnann, their only child. She grew up in Lakeland, Georgia where she met and married her lifelong sweetheart, Victor Mixon in 1940. They and their children lived in Miami, Florida, Venezuela, S.A., Lakeland, Georgia-finally settling in Melbourne Beach, Florida in 1963. Billie was hired by Radiation, Inc. which became Harris Corporation until her retirement as a corporate secretary. In retirement they traveled all over the world with Pan Am and then the U.S. in their various motor homes. Later they enjoyed many summers in Asheville, N.C. Billie will be remembered for her cooking and sewing skills, sense of humor, love of oil painting, playing piano and organ "by ear", and working crossword puzzles.
Those who remain to celebrate her memory are: her children Michele (Jack) Roddenberry and Cammie (Bob) Herring, her grandchildren: David (Cindi) Herring, Dan Roddenberry, Andy (Debbie) Roddenberry, and Laura (Jeff) Sink, and six great-grandchildren. She will be remembered by them as "Mimi", always ready to dispense hugs and kisses.
A memorial service will be held April 21 at 11:00 at First Baptist Church Indialantic, Florida. Contributions in her memory may be made to: First Baptist Church 170 Washington Avenue Indialantic, Florida 32903.