William Eugene Brashear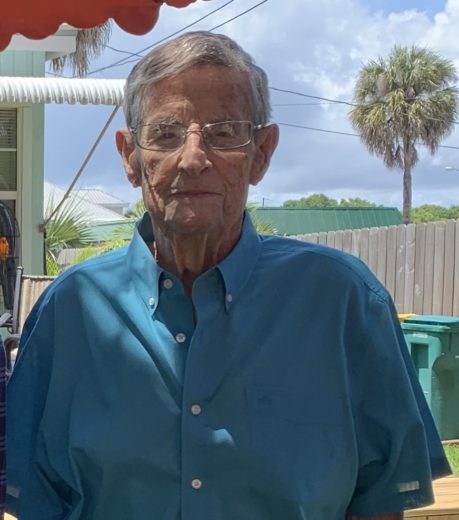 Born on August 18, 1932 in North Little Rock, Arkansas
Departed August 12, 2022 in Melbourne, Florida
William (Bill) Brashear would have been 90 years old just 6 days before he inherited his new body on August 12, 2022. He is now rejoicing in Heaven
Bill was a member of Suntree United Methodist Church. He worked on Sundays in the parking ministry. At church cookouts he could be found at the grill cooking hot dogs. He was baptized by Reverend Burdette of the 1st Baptist Church of Indialantic.
He is survived by: his wife of 72 ½ years, Patricia, children, Catherine (Bob) Hernandez, Louis Brashear, and Rebecca (Jerry) Negri, grandchildren, Jeff (Briana) Halverson, Bobby Halverson, Kathryn (Bill) Barrett, Bryan (Alysa) Brashear, Chelsea (Jerry) Mahurin, Shane (Noelle) Brashear, Richard Lee Hartzel and Keith (Kristin) Farlow, 17 great grandchildren and two dogs, Astro and Taz.
Bill was a member of the Arkansas Air National Guard. He was called to active duty during the Korean Conflict. He came from Little Rock, Arkansas in 1956 to work for RCA in the space program. He traveled all over the world to prepare tracking stations for the missiles launched from Cape Canaveral. RCA was ultimately purchased by GE then CSR. He retired in August 1992 from CSR. He also opened and operated WEB Tower Company in 1971.
In the early years he enjoyed building race cars with his friend, Don Carlson, and racing at the Eau Gallie Speedway where he was known to have the best looking car on the track. He also enjoyed working in his yard and sitting in the sun. After retirement he spent many days with the grandchildren at the beach, going to Sea World, Disney World, and camping at Fort Wilderness. Bill and Pat purchased a motor home and loved traveling around Florida.
Bill's life and work ethic was the golden rule (Matthew 7:12.) He was a loyal friend, always willing to help anyone who was in need.
He loved Florida and considered it home. He really was the man, the myth and the legend to his children and grandchildren.
A memorial service will be held at the Brownlie – Maxwell Funeral Home on Saturday August 20th at 12 noon.
14 entries.
We are so honored to have called you Papa and have had you in our lives, we love you and will keep you in our thoughts and prayers.
Sending sympathy and prayers to the family. Great memories of the Eau Gallie Speedway days and Bill. Rest in Peace.
Prayers and Thoughts are with Pat and family. Shirley and Family
What great memories I have. Bill was the most loved papa in the world. He was amazing with all the grandchildren. I remember all of our picnics at Crystal Lake, the river, and the beach. Such good memories that I will always cherish. Bill was kind, hardworking, and especially loved to joke around with all the kids/grands. Bill, you will always have a place in my heart and I will forever miss you. Pat, I love you so much and know this is not going to be easy but God will prevail. Kisses and hugs
Prayers and Thoughts are with Pat and her family.
Prayers and Thoughts to Pat and family. Shirley and family.
Such a good and decent man. It was a privilege to count him as a friend. Sincere condolences to Pat and family.
Rest in heavenly peace, Papa! You will be missed by so many but I know you'll be watching over your family who you loved so much!
Prayers for Aunt Patsy and the family I love y'all
Rip Uncle Billy, we love you
Sincere condolences to Pat and the entire family. I was Bill's administrative assistant in the RCA/GE days at Patrick AFB. He always treated everyone with kindness and respect. Worked hard but also had fun. The greatest boss and mentor. Sympathies to the Brashear family.
You will be missed so much Papa. I'll never forget those summer beach days and the unconditional love you had for our family.
Love and prayers for Pat, children and family. We have been friends since 1972.
I'm honored to have been included in your family, more so to be able to call you "Dad." I'll set a place for you during Oktoberfest.