Irene Elizabeth "Betty" Stahl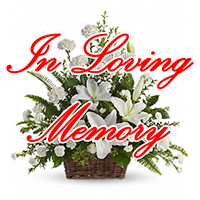 Born in Daytona Beach, Florida on August 6, 1930
Departed in Melbourne, Florida on March 7, 2019
Irene Elizabeth "Betty" Stahl, 88, of West Melbourne went to the Lords presence on Thursday, March 7, 2019.
She was a Native of Daytona Beach, FL and moved to Brevard County in 1964. She was a homemaker and a member of Bowe Gardens Baptist Church.
Survivors include Daughters, Brenda (George) Bryant, Susan Puzycki, Deborah Natale, Pamela (William) Higginbotham and Eillen (Billy) Carter; sons, Raymond Wilkinson, Stephen (Louann) Wilkinson and Harry (Marty) Stahl III; over 100 grand, great and great-great grandchildren; sisters, Mary Lou Stahl and Barbara Lovett. Predeceased by her husband, Harry and a son, Butch.
A Celebration of her life will be at Bowe Gardens Baptist Church on Thursday, March 14th at 12 Noon with calling for one hour before the service.
17 entries.
Grandma I'm going to miss u. U made all of our lives wonderful and loved us so much I love you so much we hope ur watching over us. God is keeping u safe. 😭
Our loss is heaven's gain. Oh, how we loved Betty and Harry. You were always therer quietly serving and loving everyone. We always counted on you two.....and you were always there for us and we appreciated every bit!!!! Especially Hary as comedic wiseman!!!! xoxoxo
I love you and will miss you Aunt Liz.
We are so sorry for your loss! Your mom was such a Besutiful and Loving Lady! We loved her and Harry so much! What a wonderful reunion those two are having! God Bless all of you!
Sending love and prayers to the entire family. It sounds like Betty had a wonderful life, one filled with a lot of family who treasured her. She is now at peace and watching over each one of you, as an angel. She is now resting in God's embrace. With love and sympathy Minette (Holly's sister in PA)
I am truly sorry to hear the passing of Betty God bless the whole family Cheryl Baskin
I love you Aunt Elizabeth! I will think of you often and miss you always! May you rest in enternal peace!
We are so sorry for your loss , may prayer confor you .
Rest In Peace my beautiful Sister, Irene Elizabeth Stahl, My Sweet Liz, you have left your earthly body and your beautiful soul entered into our Great Gods kingdom and our God will have another Angel to help look over us🙏💜❤️🙏
Betty was a beautiful person inside and out. She always made you feel special no matter her situation. She will be missed.
Mom Stahl will be greatly missed.. we had allot of fun memories and laughs through out the years and she always treated us all like we were her children. Until we meet again my friend. Love and Prayers for all! ❤️
Momma you know I will miss you every day you are always in my heart I will love you till the end until we meet agin you are my Guardian Angel
You was and amazing women it's sad to see you gone miss and love u
I'm going to miss u grandma I love u so much
So sorry for your loss. She was a wonderful lady, she will be missed .my dad loved when she would bring him cookies for Christmas . she always had a smile on her face.Mrs sthal would you tell my mom that we love and miss her? Mrs Sthal you will be missed. love connie
Your mom/ grandma will so missed she was wonderful lady. she make dad cookies every Christmas. she will be so missed. Rip Mrs Sthal love you. Tell my mom we love and miss her.
I know my daughter and her family will miss their grandmom. I got to meet her some years ago and found her to be a very gracious lady. I know my grandchildren will miss her as well as my son in law and my daughter. My sincere condolences. Thank you for a lovely lady. Billie Manjin.