Joseph R. Dunn "Joe"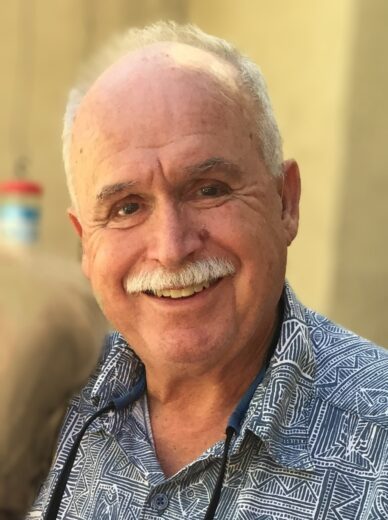 Born on November 4, 1941 in Daytona Beach, Florida
Departed December 31, 2022 in Satellite Beach, Florida
Joseph "Joe" Richard Dunn passed away on December 31, 2022, near his home in Satellite Beach, Florida at age 81. Joe was born on November 4, 1941 in Daytona Beach, Florida to Robert Joseph Dunn and Sara Riordan Dunn. Joe and his Life Partner, Mary Garretson, moved to Satellite Beach in 2006.
As a young child he lived in multiple states, including California and Texas with his sister Sally, to whom he was a devoted brother. Joe enlisted in the U.S. Naval Reserves in October 1959 and was called to active duty from October 1961 – August 1963. He was deployed to Vietnam aboard the U.S.S. Marsh (DE-699) where he served as a machinist and boilerman.
Joe graduated from the California State University, Northridge with a BA in Accounting, received his MBA from Pepperdine University, and became a CPA. He initially worked as a CPA for Seidman and Seidman and worked for over 30 years in Higher Education Finance including the California State University system, CSU Campuses of Northridge, Los Angeles, Stanislaus, and Penn State University Great Valley.
Following his retirement, Joe volunteered as a guardian ad litum, where he represented over a dozen children in the foster care system.
An avid outdoorsman, Joe enjoyed boating, fishing, sailing and (in his younger years), skiing, scuba diving, and snorkeling. He was also an aviation enthusiast and began flying Ultralights and then earned his pilot's license for flying small planes.
Joe was also a skilled craftsman and woodworker who had a knack for anything mechanical. He designed and built custom cabinetry and furniture pieces, remodeled several areas of his home, built an addition to his home, and built a boat dock with an upper deck for viewing rocket launches and enjoying sunsets.
Joe had the opportunity to live in and visit several states. Joe and Mary traveled throughout the US and made several overseas trips during their retirement. An avid reader, he read books on many subjects, including world history, fiction, astronomy, science and engineering.
Joe leaves his life partner Mary Garretson; daughter Laura Dunn; son Steve Dunn and daughter-in-law Kendra; two grandchildren Gavin and Grady; sister Sally Dunn; stepson Rob Garretson; two nephews and their wives and children.
He will be greatly missed but his warmth, kindness, and loving spirit will be remembered forever.
A celebration of life will be held in the near future.
 

8 entries.
Joe is one of the kindest people I have known. His genuine enthusiasm around helping others was obvious from the first time I met him. Every time Dan and I visited Florida, we were greeted by Joe with a warm, welcoming smile. He always made sure we had fun activities planned and he showed us some of the best sights in the area. I enjoyed listening to his stories and (especially) hearing his laugh, hanging out with Joe was always fun and he made everyone in the group feel included. He will be deeply missed but I feel fortunate to have spent the time I did with him.
Uncle Joe...Uncle Joe, you taught me so much. How to ski, how to cook, how to use the Internet properly, how to fly a plane, how to fight...thank you for that, by the way, you saved my butt from a LOT OF bullies! You showed me the wider world, the one outside my quiet nerdy bookish bubble. I cannot begin to describe how different, how much BETTER of a person I am because you cared enough to show me more. You, and Aunt Mary too. At one of the most difficult times of my life, you and Aunt Mary took me in and saw me through it. There is no way I could ever, ever thank you enough. And then, when I moved to Florida and eventually had my Mara, you and Aunt Mary were my solid port in any storm I suffered. I always felt safe and looked after, no matter what. The first sailor I ever knew...I feel like you're the reason I found another as remarkable as you, Uncle Joe. Thank you for being in my life. Thank you for teaching me so many amazing things. Thank you for loving my amazing, remarkable Aunt Mary. THANK YOU. I love you.
Joe Dunn was a man whose capable and loving presence was a deeply positive influence on the lives of so many. As a devoted father and grandfather, he was a role model adored by his children, grandchildren, and extended family. Also, one of the most generous persons I have ever met. He gave freely of his time and knowledge on many occasions. My family and I have many fond memories of working on projects, painting our kitchen in York, Pa, eating blue crabs, and of course fishing. He will be greatly missed and always remembered as a nice guy. May he rest in piece after a full and joyful life. He really did enjoy life. Michael Norton & Family.
I feel very fortunate to have know Uncle Joe and it was clear how much he was willing to do in service of others. He had curiosity mixed with a practical side that resulted in a fun enthusiasm that was great to be part of. He was always eager to do something interesting with us when we visited and was happy to spend time with us. Uncle Joe seemed to jump into many things and did not live life from the sidelines. His generosity and contributions to those around him will certainly be missed.
I will sorely miss Joe in my barber shop. I always enjoyed his visits.
We have so many great memories with Joe. We always think of Joe as a man who loved seeing others enjoy. Whether it be sailing, boating, playing board games or cards with Joe he was always engaged and making sure we were all enjoying our time. His knowledge and the stories he shared regarding the Space Coast, pirate ships, boating and sea turtles will always be remembered. Our favorite visit with Joe is when he took us and our 8 year-old grandson to see the sea turtles. That night we saw a huge Momma turtle come out of the water and dig a huge hole to begin laying her eggs. We also saw another nest of baby turtles coming out of their shells and heading to the water. Joe explained the whole process to us in a way that our grandson was captivated. From then on, our grandson was a sea turtle lover and would share Joe's knowledge with others. We will forever remember that night and Joe. RIP
We feel so lucky to have known Joe. He was an amazing person who enjoyed a long and remarkable life. His generous personality and smile will live on in our hearts. Who would have thought that a chance meeting at a dance event would result in such a long-lasting international friendship. We hope the personal special memories will help everyone through this difficult time.
Joe will be remembered by his friendly and calm style. I loved working with him with property sales and management in California. A treat was meeting with Joe and Mary to walk through the properties on visits to Orange County CA. It was a pleasure to know Joe. May we all remember the good times.