William Lawrence "Larry" Finch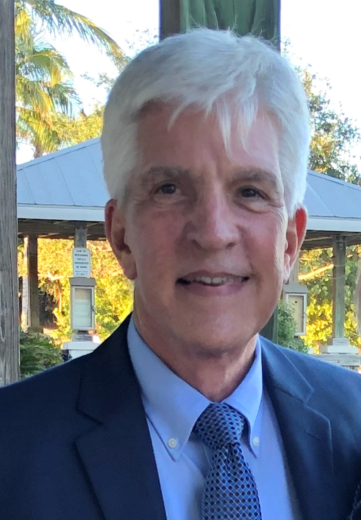 Born on June 23, 1948 in Champaign, Illinois
Departed July 20, 2022 in Palm Bay, Florida
William Lawrence "Larry" Finch, passed away on July 20, 2022 at the very young age of 74. Larry was a son, brother, teacher, cook, gardener, and a friend. He loved his family dearly. It has been said, that if you don't know the names of Larry's sisters, then you don't know Larry. He was a US History teacher at DeLaura Middle School. He was passionate about history and the education of his students. Larry was an amazing cook. He was especially known for his brownies, which might have had a bit of Kahlua in them, and his frozen peach margaritas. He was an avid gardener who was especially partial to bromeliads and orchids. He was a beloved friend to many whose pictures were displayed all around his home.
Larry is survived by his two sisters Nancy (Barry) Kronman and Suzanne Martin; his nieces and nephews, Joshua (Eva) Kronman. Rachel (Marco) Santori, James (Britney) Martin, Rolly (Katie) Martin, and Meggie (Christian) Rasmusson.
A Celebration of Life will be held from 3:00 – 5:00 pm, on August 20, 2022 at his home, 2048 Advana Street NE, Palm Bay, Florida.
6 entries.
Nancy, Suzanne and family; I was so sorry to hear of the passing of Larry at such a young age. I remember your family so fondly, and it seems like yesterday we were all there in the circle, with Pierre and Lisa patrolling, and dads cooking steaks on a Sunday afternoon. I got to participate in the Talented Student Program that Larry launched for BCPS in the inaugural year. I would have loved to have been one of his students, as I love history. My deepest sympathies for your family. Laura Olson
Yes, I know the names of Larry's sisters well. Nancy and Suzanne, they both babysat me at one time or another when we lived on Oakridge Drive. Larry was older and I didn't know him well but I remember him. May he rest in peace.
I got to know Larry Finch as a fellow education activist through our local union, the Brevard Federation of Teachers. Larry loved the education profession and he was an active member of our union serving as a building representative, elected delegate to state and national conventions, and much more. He was not only willing to make a difference in the classroom, but also wanted to work to make changes that would better the school experience for all. Rest in Power, Larry.
Larry shared so many stories about history and about his family. So many fun memories of him from his work with his union. Great person. I'm sorry to hear this sad news.
I remember Larry (Mr. Finch) teaching history, placing an intimidating cowboy boot on the desk in front of me, but with a wry smile, always making history fun. I can still recall his color-coded handouts that were like comics of history. When I told him I wanted to become a teacher, he lovingly tried to dissuade me, looking out for me the way he does those around him. And yet, he was always encouraging of me. After becoming a teacher, and him insisting I call him Larry, we became close friends and fellow teachers in the trenches. We had a lot of great conversations over drinks and Cuban food throughout the years. He will always remain one of the most influential people in my life and I can say the same for everyone who knew him. But heavy losses can only exist in the vacuum of an incredibly meaningful life. I love you, Larry!
My thoughts and prayers are with all of you.