Jeffrey D. Chauncey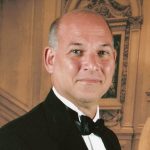 Born in Albany, GA on August 29, 1960.
Departed on January 5, 2018 in Melbourne, Fl
Jeffrey D. Chauncey, 57, of Melbourne, FL went to be with the Lord, suddenly, on Friday, January 5, 2018 at his home in Melbourne, FL. He was a wonderful husband, father, grandfather, brother, uncle, man of faith, and active member of River Run Christian Church in Melbourne.
Jeffrey was preceded in death by his parents Wildon and Beulah Mae Chauncey and a brother, Michael Chauncey. He is survived by Michelle, his loving and devoted wife of 32 years, his daughter Christina (Christopher) Wilson, three granddaughters, who were the delight of his life, Chloe, Caitlin, and Carly Wilson, his brother Wayne (Shirley) Chauncey, nephew Michael Chauncey, niece Stori (Jamie) Page, nephew Robert (Shannon) Chauncey, and many other nieces, nephews, great-nieces, great-nephews, and many friends and co-workers.
Jeffrey lived his early years (between ages 4-6 and 10-17) on Guantanamo Bay Base in Cuba with his family. For the last 17 years, he has lived in Melbourne, FL, was employed at Harris Corporation, and was a dedicated servant of God with his church family. His most passionate hobby was photography and he has shared his passion, knowledge, and gift with his wife, daughter, niece, and great-niece. The last several years he has honed his woodworking skills and has done beautiful upgrades to the home and most recently made beautiful hope chests for his daughter and granddaughters.
Many friends and co-workers have commented he was always willing to share his knowledge, wit, advice, and a smile, he will be deeply missed by all who knew or met him.
Services will be at 10:00 am Saturday, January 13, at River Run Christian Church, 1660 Croton Road, Melbourne, FL.
In lieu of flowers, the family requests (if so led) a donation to the River Run Christian Church camp and mission trip fund. In the memo, please note Jeff's Fund.
17 entries.
Very sorry at the loss of a fellow classmate ! I'm glad to had the opportunity to see him at least once since high school for lunch. He will be missed !!! Say hi to Jesus for me Jeffery !!!
From a GTMO classmate, sending prayers up for his wife and family. May God comfort and give you strength during this difficult time.
Jeff, RIP. I love you and am grateful for the times we had together. You will be missed.
Michelle I am so sorry of hearing of Jeff's passing. Praying you will be comforted by our Heavenly Father. Love to you.
May God Bless you Jeff . Fly High and soar with the Angels ! You will be so missed ! R.I.P. my Friend.
What a shock - my friend and mentor Jeffrey passing. He was the one bright spot of inspiration during my time in Miami with him. I was a very green Technical Project Manager and he mentored and steered me through some very rough times. Jeffrey introduced my wife and I to the joy of shipboard cruising. Michelle - we are deeply saddened by your loss - but know that Jeffrey has touched many many lives in a uplifting and special way. We all morn his passing.
RIP Jeff from a fellow fellow classmate from William T Sampson High School in Guantanamo Bay Cuba. My prayers for friends and family. I am sure you are watching down on us smiling. We will meet again one day.
Sending Hugs and Tears for the Passing of a Great Man. I pray for Michelle to give her Strength to get through the road ahead. Love Barbara Gitmo Classmate
I am still so deeply in shock. Jeffrey will be missed with all his witticisims and information. I am grateful to have known both of you.
Michelle I am so sorry. My thoughts and prayers are with you.
Your extra care and thoughtfulness will be greatly missed. See you later.
May God bless, comfort and give peace to the family and friends that miss Jeffrey. He was a wonderful man and I still cannot believe he's gone. We'll all have one huge reunion in heaven someday, and will see Jeffrey again.
I knew Jeff when we lived on the base in Gtmo. He will surely be missed by all our Gtmo family. Prayers for his wife and family. May God comfort and give you strength during this difficult time. God Bless.
We will never forget you or your love and kindness towards us; may you rest with the angels and know you will loved and missed forever until we join you Love Tim, Amanda Robert Brittany and Joshua Nealin
Greg and I are going to miss you so much. It doesn't seem real. We'll always remember all of our times together camping, sailing, working on home projects here and in TN, Christmases, holidays, dinners out and Bible studies. It just won't be the same without you. Thank you for being such a wonderful friend. You and Michelle are actually more like family. Love you.
RIP Jeffery: Your years on earth have been too short. But now with our Lord Jesus Christ, and your Mom, Dad, & Mike. I know you are rejoicing in heaven.. Peace and Tranquility for those you leave behind, I pray..