Lizabeth Merin Busch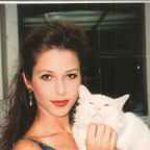 Born in Huntington, NY on July 24, 1972
Departed on January 31, 2018 in Melbourne, FL
Lizabeth Merin Busch passed away suddenly on January 31st. In her brief life she had many accomplishments and brought joy and smiles to all. In addition to managing several restaurants she had enjoyed careers as a Recruiting Manager and a model. Her family includes her parents, Roger and Annette; sisters Laura (Dana), Lisa (Karl), Stephanie (Andrew) and Sue (Steve) and her brother Roger II (Marie).
Calling hours will be Tuesday February 6th from 5pm-7pm at the Brownlie – Maxwell Funeral Home with the vigil service at 6pm. A Funeral Mass will be celebrated at 1pm on Wednesday February 7th at The St Joseph Catholic Church on Miller St in Palm Bay.
8 entries.
I'm so sorry for your loss. Liz was a beautiful person inside and out. She was there for me during one of the hardest times of my life and her friendship meant the world to me. She was smart, funny, incredibly charming, and loved her family very much. She is missed.
I'm so sorry for your loss. Thank you, Busch family, for all you've done for me. Thank you, Liz, for being part of my life.
So sorry for your loss. May she rest in peace. Sending prayers of comfort to Roger and Annette.
So sorry for your loss. Shes in a better place now
I am sending love and prayers
My Dear Nettie an Rodger, I am sorry to hear this sad news. I send my love and heartfelt sympath to you and all of your family. I pray God comforts and showers you with his love! 💓🙏🏻
RIP sweet angel. Beautiful inside and out. I wish life had been better to you and hope and pray you are in the comfort of family in heaven. I am sure Uncle Greg and the rest of the extended Mandly Family will welcome you with open arms. Peace at last <3
She was a bright shining little girl, a beloved niece and cousin. She was ALWAYS in our hearts. She didn't deserve to die without ever having the chance had a chance to reach her potential.