Robert J. Marando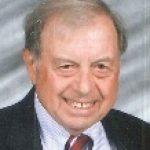 Born in Messena, NY on May, 28, 1940
Departed on January 21, 2018 in Melbourne Beach, FL
Robert J. Marando, passed away at his home in Melbourne Beach on January 21, 2018. He was a retired Mechanical Engineer from Praxair, moving to Brevard in 2002 from Westfield, NJ. He was a graduate of Tri State University and a Licensed Professional Engineer in the State of NJ. a member of the Society of Mechanical Engineers, Society of Professional Engineers, Immaculate Conception Catholic Church and Bent Pine Golf Club.
Robert was the beloved husband of Marlene, brother to Joan Moomey, Meribeth Schnell and Martha (Steve) Granger and uncle to many nieces and nephews. He was predeceased by his parents Humbert and Elizabeth Marando.
A Funeral Mass will be celebrated on Monday January 29th at 10:30am in the Immaculate Conception Catholic Church, Melbourne Beach. The family requests that donations in his memory may be made to the University of Miami Miller School of Medicine (Hematology – Oncology Dept.)
1 entry.
Bob will be missed very much.