Yvonne Christine Wilson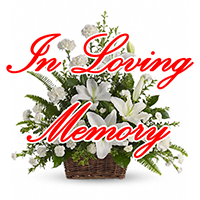 Born in Minneapolis, Minnesota on October 1, 1956.
Departed in Palm Bay, Florida on June 28, 2018
Yvonne Christine Wilson, 61, passed away on Monday, June 18, 2018. Yvonne was born in Minneapolis, Minnesota and is a retired LPN. She was a lifelong lover of music and a flutist at Peace Lutheran Church for many years. Yvonne is survived by her brother, Tim Wilson; daughter and son in law, Amy and Erik Engelhardt; granddaughter, Sierra Engelhardt; She was predeceased by her parents Roger and Marilyn Wilson. A memorial will be held on Saturday, June 30, 2018 at 11:00am at Peace Lutheran Church.
3 entries.
So sorry to hear about Yvonne's passing. Rest in Peace.
So sad to hear this. I am sorry for her family's loss. We went to school together, very nice person, will be missed.
So sorry Tim for your loss. Yvonne was a lifelong friend. As you are also. Jean and I will be at the service on the 30th. Unfortunately we are having Jim's funeral service at Brownlie Maxwell today. Ironic how they both passed on the same day.