Jake Ryan Louizos
Jake Ryan Louizos, 28 passed away unexpectedly Tuesday August 18. Jake was born and raised in Melbourne holding various jobs in the area as a chef and lastly as a masonry worker. Jake had a signature smile and laugh with a love for life, boating, fishing, cooking, and spending time with his family at home and at work. He was especially proud of and devoted to his two children, whom he loved and adored and brought him so much joy.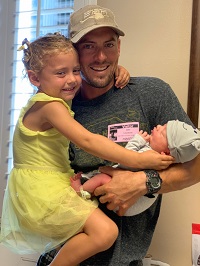 He will be dearly missed and forever remembered and loved by his family and friends. Survivors include his daughter Sydney Louizos (Lindsay Chiarantona) , son Weston Louizos (Kirstin Morris significant other), father Richard (Ellen) Louizos, mother Diane Gunderson, brother and best friend Eric Louizos, paternal grandmother Diane (Alan) McCombs. Step-siblings Joel, Michelle, Kylie, Glenn-Marie and Carlie and many aunts, uncles and cousins. He was preceded by his step-father Curtis Gunderson and maternal grandparents Jean and Alice Jacques.
A celebration of his life will be planned in the coming weeks. Donations may be made to a water or fishing conservation program of the donor's choice.
25 entries.
My daughter Kayla Damrow and Jake attended the same school in Melbourne in 6Th grade. He was such a sweet boy and they were good friends. I was so saddened to hear of his passing. My prayers go out to his family, friends, and especially his children. I am very sorry for your loss.
Oh my gosh.. I'm just now hearing about this :(.. breaks my heart!! I've been gone from town for a few Yrs now an old friend reached out to tell me.. No words can tell the family, especially Diane and Eric how sorry I am for you!!! I Love this boy!! Jake was always the greatest!! Was like a nephew to me. He is so sadly missed!!!!
We love you guys. Heart hurts.
I will always remember your smile and all the fun we had over the years. You made the most beautiful babies ever. I'm so glad I was able to see you a few weeks before. If I only knew it was the last time i would see you. I love you and #floridana4real won't be the same without you.
We are so sorry for your loss and send love and prayers for strength and comfort!
You were one kindest people. High school was a challenge for me in a social sense and you were one of my closest friends. Countless Beach days,Wing nights and Roadtrips will always be fond and of you my friend. Fly High & I'll see you up there... Love you buddy, Your old friend Scoop
Our family is so sorry to hear about the passing of Jake. It is such a heartbreak. You all are in our hearts and prayers during this very difficult time. Coleen, Al, Alexander & Talana Roye
WORDS CAN NOT EXPRESS HOW DEEPLY SORRY I AM TO HEAR ABOUT JAKE. HE WILL HOLD A SPECIAL PLACE IN MY HEART. HE TRULY WAS A WONDERFUL DAD TO MY GRAND DAUGHTER SYDNEY. SHE LOVED HIM DEARLY. MY THOUGHTS AND PRAYERS ARE WITH YOU ALL. HE WILL BE MISSED. LOIS CHIARANTONA
We are so very sorry to hear of Jake's passing. Our thoughts are with you and your family.
I am so sorry to hear of your sudden. Your family is in our thoughts and prayers.
Dear Diane, Eric, John, Eve and Kristin, I am heartbroken for your loss! Jake has such a large smile and personality! I can do nothing to take away Your present pain, I can pray you through this time, and send you hugs, thoughts, prayers and lots of LOVE. We hold you in our hearts. Jesus surely holds Jake! Pat (Patricia) and David Dezman
Our most sincere condolences for your loss Anne & Bill
I am heartbroken for you all. You are all in thoughts and prayers. Sending love. Renée
Diane & Rick, I wanted to reach out and let you know how deeply sorry I am for your loss.
To Lindsay, Sydney, Diane, and The Louizo's Family, We are so very sorry to hear about Jake's passing!! You are all in our thoughts and prayer's! With Love, Pop and Grandma! Uncle Phil, Aunt Sharon, and The Greco Family.
I am so sorry for your loss. Praying for God's comfort for all the Family and Friends.
Your family is in our thoughts and prayers.
We are friends of Dave & Carol Stacy. Ellen, we want you and Richard and family to know how saddened we are to learn of Jake's passing and of how heartbreaking such a sudden tragedy must be. Please know that you all are in our prayers and we send our love.
I didn't have the pleasure of knowing Jake but I know his beautiful daughter Sydney. God bless him and may he rest in peace.