Payton Kathleen Watson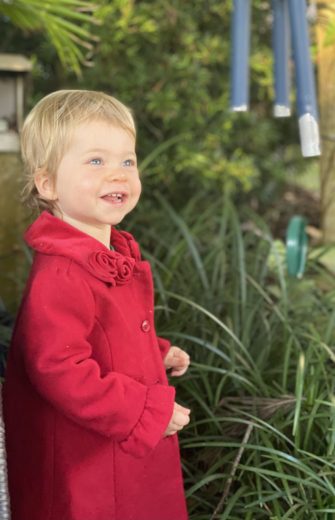 Born on July 12, 2020 in Melbourne, Florida
Departed on January 27, 2022 in Grant-Valkaria, Florida
With deepest sorrow we announce that Payton Kathleen Watson, our beloved daughter, granddaughter, great granddaughter, niece, cousin and friend left this world unexpectedly on January 27, 2022. She was born in Melbourne, Florida on July 12, 2020 to Tim and Jessica Watson.
Whether a play date, Sunday dinner or a visit from family, Payton took delight in being with those who loved her. She loved learning to play the piano, reading books, throwing a frisbee or ball, boats, and being outside in nature. She was drawn to animals and flowers, and shared her joy with those around her. Payton inspired us to live in the moment and cherish the simplest things in life. We will always remember her infectious smile that was often instigated by her fur brothers Murphy and Parker, and her strawberry blonde hair which was either wild bed head or soft sweet ringlets. She could be shy and sometimes a little stubborn, but when you finally got to know her, she would reveal her caring personality. Her presence in our lives will be sorely missed.
When you think of Payton, celebrate the good memories you have of her. Remember that life is fragile and short and should be lived to the fullest.
Payton was preceded in death by her great grandmothers (maternal) Kathleen Tuten and (paternal) Mary Hughes; great grandfather (paternal) Jerome Watson; and Aunt Kimberly Tuten. She leaves behind her parents Tim & Jessica Watson; grandparents Keith & Debbie Tuten and Jerry & Kathleen Watson; great grandmother Pat Watson; great grandfathers Robert Tuten and William Hughes (recently passed); numerous aunts and uncles and countless cousins. She loved spending time watching birds and interacting with chickens, ducks, and horses with her cousin Rachel and will miss hugs from her friends Briana, Lauren, and Uncle Dax.
Brownlie Maxwell Funeral Home has been entrusted with her funeral arrangements. A memorial service will be held in the Sanctuary at Suntree United Methodist Church, 7400 N. Wickham Road, Melbourne on Thursday, March 3, 2022 at 11am. The family invites all who knew Payton to attend to celebrate her life. For those who wish, in lieu of flowers, Payton's family would appreciate donations in her name to the Town of Grant Valkaria for the construction of a toddler playset at the community park.
22 entries.
Sending love and sincere condolences to you both and your family, Jess and Tim. May God continue to wrap His loving arms around you here on earth, as He cradles your sweet Payton in Heaven. Until you join her again, embrace your precious memories of your angel. God bless, Alan and Pam Rudd
You all our in our thoughts and prayers.
Words cannot express the depth of love and comfort we wish to give to Jess, Tim, Deb, Keith, Dax, Papa Tuten and so many that mourn the loss of precious Payton. We feel blessed to have known her, held her, and laughed and played with her. Payton will always be in our hearts.
Dearest sweet Payton, It is difficult to top the joy of working at a job where there are daily, beautiful celebrations and parties held in honor of love, but when we all met you, you were the cherry on the sundae of that joy. You are such a pretty little lady with rosy red cheeks and strawberry blonde hair. When we all first met you at work, you made all of us girls so excited, you were an instant star and favorite. I was lucky to have met you and see you interact with your furry-dog brothers. The happiness you brought to your parents and grandparents is immeasurable. You made such a unforgettable presence while on this earth, and we are heart broken that you are no longer here with us. I believe you are celebrating in the paradise we call heaven, as the sweetest of angels. Until we see and hug you again. My deepest sympathy to Jess, Tim, the Tuten family and the Watson family. You have a special guardian angel now and forever. I pray that joyful memories comfort you always, she will certainly never be forgotten. With Love, Liz Manley
Jessica, Tim and family. .God, sometimes it is so hard to not be discouraged when life seems to be shattered. The hurt and pain that comes from losing a child is unbearable some days. Although I know my friend's heart will never fully be healed from the loss of their baby, will you please give them an extra dose of strength today? Will you remind them that they don't have to fear the future because you are right by their side? Thank you for the way you help us and strengthen us during our heartache.
My deepest and most sincere condolences go out to you, Jess, Tim, and Family! May Payton's precious memory live in your hearts always and forever, and my God bless you, and comfort you, always.
My deepest and most sincere condolences go out to you Jess & Tim, and family and friends! May Payton's precious memory stay in your hearts always and forever.
Payton, although we did not have the opportunity to meet you, just by knowing your mom, dad and grandparents, I can only imagine the kind, caring, loving, funny, giving, adventurous girl you were. You are so loved! Jessica + Tim, our hearts are heavy and words are hard to come by. We have had you on our minds, thoughts, and prayers. You are wonderful parents and your daughter is so blessed. Her light is shining down on the both of you. So many hugs.
  My little PK you didn't stay with us long enough to know the name tag I had given you. You knew me as Papa and called me that. Given a little more time and you would have responded to PK.    You came into this world during the Covid pandemic. I live at The Fountains a Senior Living Facility here in Melbourne, FL and the rules were if you leave the property for any reason other than a doctor's appointment, you must self isolate in your apartment for 2 weeks. Meals and other services were delivered to your apartment. As soon as your were home from the hospital and settled in I told management at The Fountains that I had to go see my brand new great grand daughter and that I would self isolate upon return later that evening.     I got to hold you for the first time which was such a delight. As your grew you developed a smile that became infectious.    As we grew older, you approaching 1 1/2 years and me bearing down on 95, I could get reactions out of you by bribery i.e.holding up a cracker or cookie in one hand and holding the other hand up in a hi-five sign and you would slap my hand for the cracker. Or I would point to my cheek and smack. You would plant a wet one there for the cracker.    PK you have made so many people happy including many outside the family. I have gotten so many oohs and ah from my friends and neighbors when I show them the video of you and your dog Murphy romping on the floor. And I will never forget your mother trying to get you to connect words such as I love you Papa. It always came out love Papa. Oh. and the video of you in your Halloween costume, a wet suit with a small scuba tank on your back. As you were scooting across the floor someone called out '"Payton". You grabbed the mouth piece and put it in your mouth then took off running again.    All my love to my precious Little PK. I know you are making the other angles laugh. Papa   
We are blessed and fortunate to have experienced young Payton Watson in all her glory....laughing, crying, sleeping, eating, burping, running, playing, and bright eyed staring. She will be missed beyond measure. Our grief is deeply felt and expresses itself in unexpected ways from enexpected places. She enters our lives every day in small and meaningful ways. Our love for the Watson and Tuten families is enduring, truthful, and never ending. May every day be a testament to your love of this precious child.
Having had the privilege of making her aquaintence I will carry her smile with me for the remainder of my days. Wishing the Tuten and Watson families strength and love of family to get through this sorrowful time. Your friend Peggy Horne
I am most fortunate that our paths crossed at the same time Payton enter your lives. Tim, Jessica and Payton, you guys have left a most wonderful indelible mark on my life and heart. I send a little love your way every day. James.
Praying for Peace and Comfort for Jessica and Tim and your wonderful family.Love you guys.
It is hard to find the right words to express your sorrow at a time like this, however we have to trust in a Holy God who is all knowing and all loving. Payton is in the arms of our loving heavenly Father and although we don't understand we have to know that she is being loved and cared for. We pray in the weeks and months ahead God's love and grace will help you and all you love to know that someday you will see Payton again. God has promised us that. We will be praying for all of you as you face each day without your little one. Love Great, Great Uncle Tom and Aunt Jackie
Sending love, hugs and strength. Xo
Our hearts break at the loss of precious Payton. We are so sorry that this happened, no parent should ever have to loose a child so soon.You are in our thoughts and in our prayers.We wish we would have gotten to meet that sweet baby girl.She had the cutest smile from pictures we saw and looked like she brightened up the whole room. We would like to pray .....God, we know that this baby girl is in heaven with you but we're grieving the loss of Payton here on earth. It's unfair and it's devastating, but I pray that you would continue to wrap your arms around us all as we cry, mourn, and remember the life of this precious child.We longed to get to meet this baby and see her grow up but now we won't be able to. Please be with Tim and Jess as they mourn the loss of their child. Wipe their tears when it just seems too heavy for them. Help us surround them with your love during this time, and give them peace so they know you love them and have not abandoned them. Give them the strength to take one day at a time, one moment at a time, and one step forward at a time.God,Thank you for the way you help us and strengthen us during our heartache. Amen. WE LOVE YALL! -Amanda ,Shane ,Valerie and Chloe
Payton, I am so sorry that I never had the privilege of holding you, but we were talking one evening. Your were so shy but as I talked, you smiled and nodded with your ever so sweet smile- shall never forget it. God needed a special perfect beautiful angel to be with Him in Heaven, so He selected you. But He left many broken hearts. Your Great Grandmother, or "GG" as I'm known. Love you, sweetheart.
She is a Angel in heaven,with papa grandma and Jesus. My thoughts and prayers are with you Tim and Jess and Kathleen and Jerry and the rest of the family. I love you so much
Our hearts are heavy as we all are grieving in our town of Grant, Payton will never be forgotten . Hugs and prayers to all. Love, Brian and Sherri
She is a Angel in heaven,with papa grandma and Jesus. My thoughts and prayers are with you Tim and Jess and Kathleen and Jerry and the rest of the family. I love you so much