Margaret Gowins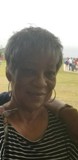 Born in Magnolia, Georgia on December 7, 1945.
Departed in Melbourne, Florida on July 6, 2018
Margaret Gowins, 72, of Melbourne went to be with the Lord on Friday July 6,2018 at her home. She was a retired Computer Operation Specialist for CSR and a member of Calvary Chapel. Survivors include her daughters Dedra (Jonathan) Wright, Stephanie (Tobias) Latham, and son Alonza Gowins, Jr. grandchildren Charles Sloan, Christofer Latham, London Gowins, Travian Wright, Trenton Gowins, Jayce Wright, Jadon Gowins and Kayiesha Burnett, great-granddaughter Jennabelle Burnett-Dolce, sisters Bessie Thomas, Mary Alice Dority, Rosalee Logan, Sondrese Dority and brother Rodney Dority and a host of nieces and nephews.
Calling hours will be Thursday July 12th from 5pm-7pm at the Brownlie & Maxwell Funeral Home.
6 entries.
John 16:22 "Therefore you too have grief now; but I will see you again, and your heart will rejoice, and no one will take your joy away from you. You're all in our thoughts and prayers. May God continue to be your strength and comfort always...
Our deepest regards to the family. We are praying that God provides you with the strength and comfort needed during this difficult time. May God Bless you and the family.
With deepest sympathy Remembering your wonderful Mother and wishing you comfort" Sending healing prayers and comforting hugs. We are so sorry for your loss"
Thinking about you, my friend Bessie Mae. May God strengthen and keep you and your family is my prayer.
My thoughts and prayers are with the Gowins family. Although it's been years since I've talked with Alonzo, I still think of our elementary days often. I always had fond memories of Ms. Gowins and remember her being a very good mother. Rest in peace Ms. Gowins.
To the family you have my deepest sympathy Margaret was a beautiful person to Know. May God continue to bless you all