Suzanne W. Kerr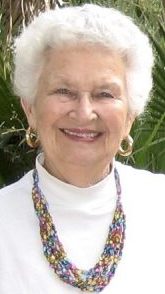 Born in Jackson, Michigan on June27, 1930.
Departed on March 6, 2018 in Melbourne Beach, Florida
Suzanne W. Kerr, of Melbourne Beach, FL, and Kalamazoo, MI, died March 6, 2018 at her Florida home.
Suzanne was preceded in death by her husband, William W. Kerr III, in 1985. She is survived by her children, William W. (Judi) Kerr IV, Alice (Michael) Kemerling and Jonathan (Denice) Kerr; grandchildren William W. (Stacy) Kerr V, J. David (Amanda) Kerr, Katherine (Sterling) McNeill, Claire (Simon) Mikolayczyk, Fritz Kemerling (Catherine Chang), Emily Kerr (Nicholas Keller), and Andrew Kerr (Michelle Eckley); and five great-grandchildren.
Suzanne was creative, funny, kind, determined, and intellectually curious. She made caring, lasting relationships with people she met throughout her life and was an important mentor and role model to many. She taught her children and grandchildren about manners and respect, and in her last couple of decades she embraced technology that allowed her to stay in close contact with her family.
The Brownlie & Maxwell Funeral Service has been entrusted with arrangements and a memorial service will be held at 10am Saturday, March 31 at Life's Oasis Church, 1441 N Harbor City Blvd, Melbourne, FL 32935.
In lieu of flowers, memorial gifts may be made to the Brevard Symphony Orchestra, Humane Society-South Brevard, Gilmore Keyboard Festival or Kalamazoo Institute of Arts.
15 entries.
We are so very sorry for your loss! When we met Suzanne, her warmth and welcome embraced us immediately. She was a classy lady. We know, she will be deeply missed by her family and friends!
Kerr Family, I read about your loss. May your many wonderful memories of life with Mrs. Suzanne bring you comfort to share with each other during this time. May you also have the peace and comfort of our Heavenly Father Jehovah as promised by His son and our savior Jesus Christ.
So sorry for your loss, I remember Suzanne as being a lovely, friendly person.
Our prayers are with the entire Kerr family. Suzanne was a wonderful woman; we feel honored to have known her.
My condolences in the loss of your love one. Thank God for the the legacy she leaves for all to cherish. Sincerely, Bernetta Rocker Hills
Bill and Judy, so sorry to hear about your loss. You and your family are in our thoughts and prayers. Kirby and Donna.
A wonderful friend, always fun to be with. She was loved and will be missed.
What a wonderful friend Suzanne was to my Mom. The Kerr's are like members of our family. She will be missed by all the Glovers.
Suzanne was a classy lady with a wonderful sense of humor. She lived her life with integrity and grace. Her friendship with our mom, Evelyn, was very special and we appreciate that so much. I know you will miss her presence, but I'm sure she left her family and friends with fond memories.
Suzanne was my mom's best friend. They were so opposite of each other, however, they made a long lasting, forever friendship. They laughed and cried together, took trips & had the best parties. She will be missed by our entire family. Love you Suzanne.
The Wilkison family is praying for the Kerr family in your time of loss. Mrs. Kerr was a beautiful, wonderful woman! So many great memories of her at the Melbourne Beach house and down at the hunting camp in SW Florida. Please accept our condolences and love.
My deepest sympathy to the Kerr family. May God bless you.
Bill, Alice, and Jon. These words about Suzanne are just perfect. I will miss her dearly. Such an awesome woman that I am blessed to have had her in my life. My prayers continue for the Kerr clan.
My sincerest sympathy to you all. Don & I are sending love and prayers to you all.
What a beautiful tribute to a beautiful lady. Suzanne will be missed by all who were touched by her. I have fond memories of Suzanne. Hugs and prayers for all the Kerr family members.