Lester L. Jones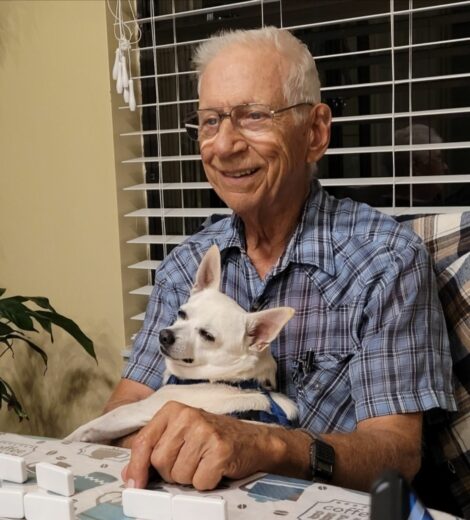 Born on May 19, 1941 in Cape Sandy, Indiana
Departed December 5, 2022 in Melbourne, Florida
Lester L. Jones, 81, a long term resident of Melbourne, Florida died December 5, 2022 at Holmes Regional Medical Center following a brief illness.
He was born in 1941 in Cape Sandy, Indiana. He joined the Navy and met Kathy, the love of his life after a blind date. He spent over 20 years in the Navy taking his family to many states and countries like Iceland, Antigua and the Bahamas. After retiring from the Navy, he moved his Family to Melbourne and began working in the test lab at Patrick Air Force Base.
Lester was an avid hunter, fisherman, farmer, explorer and a great husband and parent. He was a Deacon in his church. He would help anyone with anything he could and was always willing to lend a hand.
Lester is survived by his wife of 61 years Kathy Jones; son Vernon (Ivette) Jones, daughter Rebecca Austin, son Jared (Racheal) Jones; grandchildren Erik, Jeffrey, Daphnie, Stephanie, Kyle, Jace, Remi, Lochlan and baby boy on the way; great grandchildren Olivia, Elena, Luca, Tabitha, Elizabeth, Nathaniel, Elijah and Ellianna.
He was preceded by his parents Florence and Max; siblings William, Kenneth, Jesse, Marjorie and Marlin.
Friends may call from 4 pm until time of service at 5 pm on Saturday, December 10, 2022 at Brownlie-Maxwell Funeral Home, 1010 E. Palmetto Ave., Melbourne, Florida 32901.
In lieu of flowers, donations may be sent to the Church of Christ, 810 Hollywood Boulevard, West Melbourne, Florida 32904 or the American Cancer Society:
16 entries.
We pray God's comfort on the family. Lester and Kathy helped start churches in Antigua with us. Although he will be missed here, he is celebrating in heaven at the feet of Jesus.
It was sure a pleasure to have gotten to know Lester ..Both Lester and Kathy are a amazing couple .we will miss Lester he was a very kind and loving man who made us feel very welcome at Church of christ and in his home .We feel blessed to have had him as a friend
Mr jones gave me my first job me and Vernon and Randy ran amok on eleuthera for many years and Mrs Jones made the best chocolate bread pudding ever between the chief and my dad they could fix anything Lester always.chewing.on a a toothpick great man and proud to know him
fly high you will be missed
My dear father-in-law Lester, I still can't believe you're gone. I know you are in a better place now. I will miss you very much. May you rest in peace!
I worked with Lester for many years at the Patrick AFB Precision Measurement Equipment Laboratory and he was always helpful and inspirational to be around. If you had a problem, he was always available to help with technical expertise or to research parts or manuals. I missed his helpfulness after his forced retirement, layoff, and being able to stay in contact with him as he and Kathy traveled between Indiana and Florida. Rest easy and say hello to my wife as you enter the Pearly Gates.
Rest in peace uncle Lester, always looked up to him loved his endless engineering of making things better with what was available
Although we did not meet this wonderful man, we have heard only amazing things and how much he meant to his kids. My family is deeply saddened by the loss of Mr. Jones. May his soul Rest In Peace and praying that God provides the peace and comfort needed to all his loved ones.
Lester was one of the kind man, always had a smile and a friendly word to share. A true man of God, he will be missed A sister in Christ. Ute
I thought even though I never had the opportunity to work for you, I always respected you.You were a teacher as well as a leader.Chiefs like you helped me to have a sucessful naval career.Your leadership skills were off the Chart 4.0 always. Thank you so very much. Your Shipmate Charles D.Arnett MSCM(SW) retired.My thoughts and Prayers are with all of your Family.
Thank you for being such a wonderful daddy! I love you forever.
He was the best dad, father-in-love, and PePaw we could have asked for. We will talk about him to the boys all the time to keep his memory alive.
Dad was a good man and helped everybody and there wasn't much he didn't know how to do. He lived a good healthy life and was a good example to all. I will miss him.
This obituary doesn't cover the smallest part of how much I will miss my Dad. He wasn't just my Dad he was my friend and my backup and my teacher. He was my example of how to live my life and how to treat people. Him and my Mom are the reason I am the person I am today.
Rebecca and Family, So sorry to heard about your dad. Loved meeting your family. He was such a nice and kind person. Thoughts and prayers for the family. Blessings to all. Bonnie
My deepest condolences to the Jones family. May your beautiful memories of Mr. Jones bring you comfort at such a sad time. I had the pleasure of meeting the family when our families were stationed together on Eleuthera, Bahamas. Vernon and Rebecca were school mates of mine and close friends; Mrs. Jones was my Girls Scout leader. I always remember Mr Jones being busy doing things with Vernon and always helping out anyone who needed it with a multitude of things! My own Dad always spoke highly of Mr. Jones, and was thrilled when he went to work at PAFB after his Navy retirement. Rest in heavenly peace Mr. Jones, you are loved and will be greatly missed by so many; you touched many lives along your way. Fair winds and following seas~ ⚓️