Marcus Alan Matheny
Marcus Alan Matheny, 77, of Grant, Fl, finished his race and went home to the Lord on Wednesday, April 28, 2021.
On December 17, 1943, Mark was born to Virginia and Jud Matheny in Logan, Ohio, his boyhood town.
Mark Matheny, known to many by the nicknames "Stubbie," "Pops," or "Coach," attended Morehead State University on a football scholarship. His first coaching position was at Jackson, Ohio, where he developed lifelong friendships. He was a passionate Ohio State football fan and sports enthusiast.
He moved to Eau Gallie, FL in the early '70s from Jackson, OH. He taught and coached at Eau Gallie High School for nearly 40 years. The lives he touched were countless, and the nicknames he gave people were priceless.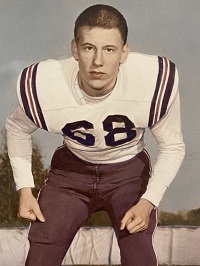 Mark loved everyone well. He judged no one and was a friend to all. He was a father figure to many of his players, even inviting some with difficult home environments, to live with him for seasons of time. He took time to encourage, praise, and assist those that others may pass by, from the custodians at school, to the ladies in the lunch room, to strangers at bus stops.
Mark had a magnificent sense of humor. Making his family and friends laugh was one of his greatest joys.
In the year 2000, Mark had a life-changing encounter with Jesus and came to know him as his Lord and Savior. He was baptized at First Baptist Church of Melbourne, where he gained a church family that he treasured deeply and served well. He shared with others about the Lord until the final moments of his life.
He enjoyed many hobbies, including playing tennis with the Space Coast League (SCTL), fishing, and spending time with his beloved family and friends in his retirement.
Mark is now home in his Father's arms, and we know he has heard the words of the Lord, "Well done, good and faithful servant!"
Survivors include his wife Angie, son Josh (Jenna), daughters Ginny Blythe, Megan (Scott) Wilson, Olivia (Marshall) Williams, grandchildren Emma, Ethan, Silas, Micah, Titus, Zeke, Angelina, Ava, Lane, and Bennett, a sister Lynn (Dave) Kantner, and nephews Ray and Cullen Beach. He was predeceased by his son-in-law Kevin Blythe.
A Celebration of His Life will be held on Saturday, May 8, at 4 pm at First Baptist Church Melbourne, with a casual outdoor reception following (*please bring a lawn chair for the reception). Anyone wanting to express sympathy is asked to consider the "Greater Things" Fund of First Baptist Church Melbourne.link
https://fbcmelbourneweb.myshelby.org/default.aspx?page=3424
The family would love for you to take a moment to share your fondest memory of Mark on the online guestbook below.

81 entries.
KNEW MARK AT MOREHEAD STATE. WE WENT TO FLA ON SPRING BREAK. LET HIM DRIVE MY OLD 57 FORD WAGON ON THE WAY BACK FROM LAUDERDALE. I WAS ASLEEP AND WOKE UP TO MARK GOING ABOUT NINETY THRU DOWNTOWN ATLANTA AT 2:00 am. WE HAD A BIG LAUGH OUT OF THAT. GREAT GUY.BLESS ALL OF HIS FAMILY DURING THIS DIFFICULT TIME.DR. JACK ROUSH IS MY DAUGHTERS FATHER IN LAW.
Honored to have known such a wonderful man
Stubs, if asked probably wouldn't remember me but I remember him. He was fun to know and he made you feel like he was glad to know you too! It takes a special person to do that! Stubs was special!
Maya Angelou said " A great soul serves everyone all the time. A great soul never dies. It brings us together again and again." We will remember Mark every time we hear laugher because every time we were together he made us laugh, really laugh and we will see him in the eyes of his children and grandchildren because they are a reflection of who he was. We feel truly blessed that he was a part of our lives.
Stub was a great guy, coach and tennis player.
I am fairly new to the Matheny Clan but luckily got to spend some good times with Marcus over the years, and he was always fun to be around. He was the most selfless, kind, giving ,man to everyone and Loving Dad to his children and ten grandchildren. We were looking forward to doing Granpa stuff together. I could never come close to filling those shoes, and no one ever will. I will try to be the stand in for the great void he has left behind as best I can. He will surly be missed by all, a very special man, but now in Gods hands, Miss you buddy Papa Chuck
Jesus: And you shall love the Lord your God with all your heart and with all your soul and with all your mind and with all your strength.' The second is this: 'You shall love your neighbor as yourself.' There is no other commandment greater than these." Mark 12:30-31 Mark Matheny: "Yes, Lord."
There are no words for the loss we feel. Marc was a great friend for many, many years and will be sorely missed by us. Nick has many funny stories of their younger years together. Our thoughts and prayers go out to Angie, the kids and grandkids. He has left a great legacy to you all! There was only one "Marc."
We attended church and small group Bible study with Mark. He was a man of integrity who loved God and loved other people. And we loved his sense of humor! In a way it is difficult to accept that he is not with us any longer, especially since he was so active. But on the other hand, it is a great comfort to know with confidence that Mark is now in heaven with his Savior. Not based on his many good character qualities or his service to other people, but based on his faith in Jesus Christ. Mark would want his death to cause us to consider our own eternal destiny and where we stand with God.
Mrs. Matheny, I worked alongside Mark at EGHS for over 30 years. I found him to be a person who knew how to enjoy his job. I remember him keeping those who sat next to him faculty meetings entertained while we tried to stay focused. I pray that God will comfort you during this time and keep you in His care. Hartford Lee
Our heart felt condolences go out to the Matheny family. I would like to express to you what a fantastic person Coach was , not only to me and my family but to everyone he met. His nicknames, stories, voices, laughter and many many inspirational sayings, will definitely be missed. He will always be our coach, our friend, and our brother in Christ forever! "Get it, got it, good." ~Coach Matheny
It is truly a honor and privilege to be counted as one of Marks many friends and colleagues. We became friends at Morehead State University (1962/1966) I was a freestyler on the swim team and Mark was our #1 diver. He was an outstanding athlete, he was on a football scholarship, he was pole vaulter on track team and diver on swim team. In 1967 after teaching a year in Kentucky I got a teaching job at Eau Gallie High. Then a few years later I got a call from Bob Petty (MSU grad also friend of Mark) who was in South Florida looking for teaching job but said they had a hiring freeze. I told him to stop by on his way back to Ohio, he did, we went to EGHS, he meet with Roy Easton (principal), he got job teaching business. The next year the same thing took place with Mark and he got a PE/ coaching job. That's a brief history of how three college friends, a Kentucky hillbilly and two Ohio Buckeyes all ended up teaching at EGHS. I once's asked Mark if he knew that the definition of a buckeye was a worthless nut he would reply I beg your puddin did you know the toothbrush was invented in Kentucky, if it had been invented in Ohio it would be called a teeth brush ! Then he would flash that infectious smile. Our heartfelt condolences and prayers to Angie and the entire family. Wish we could be there Saturday but Sheila and I are sending our love and prayers. Mark R.I.P. brother and put in a good word for me with our Lord and Savior.
Learning of Marc's passing is heartbreaking and sad. He was loved by so many. Thankful for his Christian witness and the Hope we all have in Christ. Prayers for his wife Angie, kids, grandkids, sons and daughters in law..To all..your guy lived life well and I am sure you know that. I will share a wonderful memory and story..that is dear to me. I am certain these stories are bountiful throughout our Eau Gallie family ..His care and love for me, my younger brother Brett and so many teammates will never be forgotten. One of my favorite Coach Matheny tales..was from EG track season 1974 ..We were heading to the Merritt Island relays. The 'relays' required all teams to send three participants for each event and scores would be totaled..3 100 yd dash runners..3 220 yd runners 3 discus etc... Coach was short a couple of competitors in several events. I threw the discus..and was added to shot put as a '3rd'. Coach also chose to add me to the 220yd run (sprint) as a '3rd' He submitted my 'time' as a 'guess'' when he sent as < 23 seconds (about 5 seconds too fast) When the meet arrived I learned I was running, in the first heat with legendary Brevard County sprinters..."Neon" Leon Bright(MI), Julius Holmes (Melli)(the first guy I ever saw wearing an earring) Don Latimer (Ft.Pierce) basically 7 very FAST guys. They all were using a mallet to set their starting blocks..I didn't know about starting blocks.. It was getting dark and when the race began I and they all passed me in about 5 strides...I could only see the 'sparks of their spikes' in the distance. I finished ..Coach was howling and cheering on from the fence...He said .."well you didnt make the finals..FINALS?.....but you ran 2 seconds faster than you've ever run before!" (25 sec ish) I asked..Why Not Brad Crouch or Ambrose as a 3rd for France and Kovach..he laughed and said 'shhh I put them in the hurdles." For years he would ask me 'how's your 220 time?' He was an expert at knowing people...what made them tick. He was fiercely competitive but easy to work and compete for...even if You were slower than the other guys..which most of us Commodores were..
Although I have not seen Coach Matheny for decades, I still remember our drive up to New York. See, I was heading up there to work for my uncle while waiting to go into the US Air Force. Coach was heading up north, I believe to go fishing, and he offered to drop me off. There is more to the story, but in summary, I really got know Marc on the way up there. Before I end this, I have one more short story. We met again months later in Charleston SC. He was taking some boys up there to watch my alma mater play football. I flew down and got a hotel room. Marc met me at the hotel and dropped them off but did not stay. Well, things got rowdy (what do you expect with young men that why Marc left) and we got kicked out of the hotel sometime after midnight. Only one thing to do and that was we all went looking for the Coach. We found him sleeping in his van down the road. "Marc Matheny" will truly be missed.
It is rare to meet a man who loves the Lord and others as much a Brother Mark did. Seems like he never missed an opportunity to serve others with the glory going to God. He always tried to be a good testimony and invite others to church or a church function. I will greatly miss him, but take great comfort in knowing he his now with the Lord.
What can be said of Sir Marcus Matheny? This man was, to me, the Robin Williams of teachers - kind, devastatingly witty, warm, mischievous, caring, hilarious, creative, inspiring, fun-loving, supportive, on-the-students'-side-against-the-overly-strict-adults, insightful, and TRUE. He inspired me all the way through high school, as he did so many of my compatriots. I picked him up one morning when his motorcycle broke down - in my parents' old tan station wagon nonetheless, and I could barely drive because his humor had tears of laughter running down my face. One minute he was wadding up a piece of "important" paper that the principal needed his signature on, and the next he was having a heart-to-heart with a troubled student that needed an adult to listen. In P.E. class, he renamed me Val and re-wrote my last name as Dimsky - always calling me with the other kids whose last names started with "D". I could go on about Marc forever. I'll always love him and treasure his memory, and hope to give back to other people the way he gave so much, every day of his life. Love, peace, and supreme respect, Sir Marcus !!!!!!!
Marc is one of the kindest people I have ever met. My favorite example was the Wednesday night I was leaving church and Marc wouldn't leave until I did. He didn't just wait - he walked me to the door and stood there until I had made it safely to my car and had pulled away. He wouldn't take no for an answer that I was fine for him to go. He always had a smile for me and if I gave him a cup of coffee, that usually earned me a hug! I'm sad for us but so happy for him. You've left an incredible legacy Marc, and I'm happy to know our friendship does not end and I'll see you again one day! ❤️
We are so sorry for your loss. Prayers for you and your family. We love you
I was Marcus Matheny students in Eau Talkie high school he was my teacher over 27 years ago and he had two daughters in childcare in high school and he kept on asking me how is Megan doing and I said she is doing good. He always gave me encouragement when I was sad. He always had a great smile and always said hi to me at church and I said hi back. He was a great teacher and father and husband and a friend and an uncle and grandfather to his family and friends and students. Rest in peace Marcus. I sorely miss Marcus dearly too. To the whole family you are in my thoughts and prayers. Marcus and his whole family is and was a blessing in my life too. Love you all. Sending big hugs to the whole family. God is in control. Love always Colleen Orlando
I was one of his students at Eau Gallie high school more than 25 years ago and he was a great teacher and had a great smile. I know two of his lovely daughters. Rest in peace. The whole family is in my thoughts and prayers. When he was my teacher in high school he always asked me how is Megan doing because I saw her in child care and I would say she is doing good. Love you all the whole family. I miss him dearly and he would always say hi colleen and I would say hi back at church. He was a great teacher and father and husband and grandfather to his family and friends. Sending big hugs and kisses to the family and friends. Love always colleen Orlando