Michael J. Foley MD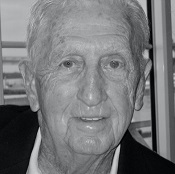 Born on August 23, 1927 in Fairmont, West Virginia.
Departed on August 13, 2020 in Melbourne, Florida
Michael Joseph Foley, passed away peacefully on August 13, 2020 at age 92, just ten days short of his 93rd birthday and four days short of his 63rd wedding anniversary to his "beautiful bride" Dorothy (Dotty), which he always loved to say. She was the love of his life and he constantly said she was the best thing that ever happened to him. He passed away in Indialantic, Florida, which he and Dotty have called home since 1959.
A Private Mass will be celebrated at Our Lady of Lourdes Catholic Church. The family requests that donations in his memory be made to the Health First Foundation. Donations
Michael was born in Fairmont, West Virginia to the late Norbert and Lillian Foley, but grew up mainly in Clarksburg, WV. At a young age he had a tough battle with typhoid fever, and this struggle with his own health may have led him to his future career in medicine and caring so much for others. Despite this early setback, he had a very happy and healthy childhood which included many wonderful childhood memories growing up on Maple Lake. He attended Washington Irving high school and was an excellent student. WWII was in full swing during Michael's high school years and he pleaded with his father to let him enlist as he was eager to do his part and pull his weight, which if you knew him, this was simply a precursor to the man he would always be. However, he was too young and his father would not give his permission nor sign his papers to allow him to enlist.
He graduated high school in 1945, and then soon after, not surprisingly, he enlisted as a Private in the US Army, Combat Engineers. However, Japan had just surrendered, and the war was coming to a close. So, after a brief time overseas, he returned home to begin college where he enrolled as an undergrad at West Virginia University. He joined Sigma Chi Fraternity and the men's football cheerleading squad for the fighting Mountaineers, became Class President, and graduated in 1949 after only three years. He was an avid Mountaineer and his enthusiasm and love of his alma mater, his Sigma Chi brothers, the WVU football and basketball teams …stayed with him his entire life.
After undergrad at WVU he was accepted and enrolled at the University of Maryland School of Medicine. He graduated in 1952 with a focus on surgery, and the following two years after graduation he worked at the University Hospital, Baltimore, Maryland in various capacities as a Rotating Intern and Assistant Resident in Surgery. It was now 1954 and The Korean War was escalating, so his internship and residency was fast-tracked to prepare him for the possibility of enlisting again, this time as a surgeon. During his residency he was given a heavy surgery schedule to prepare him for what laid ahead. His recognized skills as a surgeon pushed him to the front of the line and he was shipped out before completing his full training. He joined the Army and was awarded the rank as a Captain in the Medical Corp. Shortly thereafter he shipped out, first to Japan and then Korea, and for the next two years he further honed his surgical skills caring for our soldiers in combat. After the war culminated with a truce, he departed from Korea in 1956 and returned back to the University Hospital in Baltimore, MD to complete his full Residency in General Surgery in 1959. It was during this time that he fell in love with, and on August 17, 1957, married his "beautify bride", Dorothy Louise Fritz.
In 1958 they had their first child, James Joseph, and they were beginning their lives as a family. Then in 1959 they made a very bold decision in their young lives, and they decided to move to a very small town in Florida, known as Indialantic. They knew very little about this place other than this was going to become the future Space Coast. It was a very exciting time for many and for the country and Florida was a bit of a new frontier to so many. There was a lot attention due to the Apollo space program, new engineering firms such as Radiation (Harris) a new hospital and a lot of young energetic couples and families moving to Florida. He thought it was so important to be part of this and to be involved in building the community and everyone was to do their part.
Michael formed a partnership with Dr. James Sewell, a classmate of his from the University of Maryland. They had a very successful partnership and practice for 27 years; from 1959-1986. However, both of them were most proud of how they conducted their practice and were more focused on the relationships than anything else. In turn they were rewarded by a loyal following of patients and respect within the medical community as well as the community as a whole. Michael often said that one of the most enjoyable and gratifying aspects of his medical practice was his close and personal relationships he had with his medical partners and equally with the families and friends in the community that he felt privileged and honored to treat and care for. He also often gave much deserved credit to his wife Dotty for such a big part of their success in building a business, a family, and a community. By 1966 the young couple had five children and new home on the Indian River, which would continue to be their home and still is today.
Michael's devotion, discipline, drive and dedication along with his leadership and surgical skills were the backbone of his success. However, he still felt that he could do more. He felt strongly that physicians should be more involved with the management of healthcare instead of having confrontations with management as often was the case. He was a bit ahead of his time in thinking in this manner, but he felt so strongly about this, that he gave up his surgical practice in 1986 to become the first Medical Director and Senior Vice President of Holmes Regional Medical Center. Most of his medical colleagues questioned why he would give up his practice and "join the other side", but he stuck to his convictions as he truly believed it was the best thing he could do in the most impactful meaningful way, even if it meant giving up his practice that he spent so many years building. Times were changing and you have to change to keep up, as he would often say. This was the start of his second medical career where he would foster new business relationship and close personal friendships. His past interest and memberships in so many different community and medical organizations gave him the background experience and knowledge to succeed in his efforts to improve the Hospital and care for others.
Michael helped to start many new programs at the Hospital. In 1984, in association with a local cardiologist and close friend, Dr. Dan Donavan, he helped bring a Cardiac Catheter Lab to the area and soon after started the Open-Heart program the following years. In a joint partnership with Brevard County Health Department, he initiated an O.B. outpatient clinic with free classes staffed by medical members with full time physicians with 24 hour in-house mid-wife services and in-house nurse anesthesia as well as being supported by Brevard Ambulance Service. He was also instrumental in the development of the new Pediatrics Neonatal Services, Kidney Center, Radiology Oncology, Nuclear Medicine, Emergency Room practices with Trauma Doctors, Pathology and many others programs.
Besides his energy and drive, it was his work with his fellow colleagues from both the physician side as well as the management sides of the table that made things happen. Many of these programs were negotiated every two years and there were many attempts to align the hospital and physicians in a closer working relationship for better quality programs, practice patterns, department re-organization development, and many others. He worked tirelessly trying to improve everything all of the time. When asked one time if there was a list of all of his programs that he initiated or worked on, he answered no, because even though he may have lead the charge, there were so many others who contributed that he didn't think it was right to take the credit, but he was very proud of each of the accomplishments. It was his personal work ethic, his ability to work with others and being able to see a vision and in turn see how to bring these types of groups together and initiate and foster new programs for the betterment of the Hospital and the community as a whole.
In 1995 Michael was privileged to be part of the creation of Health First as a founding member and member of the Board of Directors. This was a tremendous accomplishment and another great benefit to the medical care of the community and a significant improvement in the delivery of care by physicians. Today Health First is Central Florida's only fully integrated delivery network and employs over 9,000 associates offering a wide variety of health insurance options and providing exceptional healthcare on Florida's Space Coast.
Among his professional affiliations include Fellow of American College of Surgeons; Southwest Surgical Congress; Florida Medical Association – '65-'85 and Peer Review Committee '70-'75; Brevard County Medical Society, Board of Governors '67-'85 and President '69; Melbourne Kidney Center, Founding Member, Board of Directors '77-'99, Vice President '77-'79, President '79-'80; Board of Directors, Blue Cross Blue Shield of Florida '79-'85; Florida Surgical Society, Founding Member '60-'95, President '87-'89; American College of Physician Executives, Founding Member '86-'95. He always believed in education and how important it was and that you never stop learning. He always encouraged anyone including his children, grand-children, and anyone that would listen, to get a good education and to learn as much as possible and keep learning to continue to improve yourself and others around you.
When Michael was not at the Hospital in surgery, or making rounds, or seeing patients at the office, he enjoyed being with his family. He was a member of the Eau Gallie Yacht Club, and was one of the founding members who put up an initial bond to start the club in its present location. This is where he spent a lot of time with Dotty and their five children and countless long-time family friends creating such great times and memories over the years. He was an avid golfer and Thursday afternoons was his special time with friends. He also enjoyed playing tennis, water skiing on the Indian River, snow skiing in Colorado, and as many other sports as he could play including basketball for as long as he could. He especially enjoyed any sports he could play and share with his wife and children. He supported all of his children in all of their sports and was an amazing coach as he had this innate ability to understand everything and teach it someone, even if he couldn't do it himself.
In 1995 they built a summer home in Reynolds Plantation on Lake Oconee in Georgia that the entire family enjoyed for 20 plus years. Being back on a lake reminded him of his younger days and his childhood growing up on Maple Lake, WV. Reynolds was another wonderful place where they met new friends, had many happy family holidays and celebrations, and where many cherished memories were created. Michael & Dotty thoroughly enjoyed playing golf together, boating on the lake, watching sunsets and entertaining family & guest who came to visit and sharing such a special place. Michael and Dotty sold their home in Reynolds in 2014 and once again made Florida their full-time home. They wanted their remaining years to be spent with the community and friends they have loved for so long. His favorite past time was sitting on the back patio looking over the Indian River watching every sunset with Dotty and anyone else that was home to enjoy.
He loved people and was always incredibly interested in getting to know everyone and learn what they were about, what they did, what motivated them, and what their goals and aspirations were. He was never shy about the questions he would ask, and if you were shy, he was still going to ask you. He often came across as tough and maybe even intimidating, but if you knew the man you knew he was as kind and compassionate as they come. Most of the time friends and family would have to inform new acquaintances that you have to realize that he is extremely sarcastic and not to take everything he says seriously, as most of the time he was just trying to be funny. He had a great sense of humor and a quick wit, which he thankfully never lost. He was very generous and full of life lessons, and whether you asked or not he was probably going to bestow his wisdom. He always spoke his mind, even if he knew it was going to get him into trouble, but you always knew where he stood. He always believed in trying to give back and was a devout follower and preacher of the Golden Rule, "treat others as you would like them to treat you".
For all of us that knew him, we are blessed to have had Michael Joseph Foley in our lives for as long as we did, and we are all better off for having known him and having him as a presence in our lives. Michael was a good and devote Irish Catholic man and the Foley Family Irish Motto in Gaelic is "Ut Prosim", which translated in English means, "That I May Be Of Use." He was a great servant of our God, our Country, our Family and our Community. He was a very humble, proud, caring, patriotic, disciplined, smart, driven, dedicated and loving man. He loved his wife of 63 years more than anything, he loved his children, and grandchildren and extended family and was always so proud of his entire family. We will miss him greatly, but he will not be forgotten. He lived a life that mattered and one that was full of passion. He has made an impact on many, and we hope to carry on, as he would, and as he would want us to do.
Michael is preceded in death by his son James Foley and his sister Mary Jane Kerrigan, and is survived by his loving and devoted wife and best friend, Dotty, his four children, Patricia Atkin (Chris), Catherine Foley-Ingram, John Foley, and Dan Foley, his four grandchildren, Sean & Michael Ingram, Taylor and Blake Atkin, and his nephews John (Marcia) Hueber, Robert (Karen) Hueber, Stephen (Janine) Hueber and Jack Kerrigan and his second favorite girl, his golden rescue retriever, Sandy.
For a short video of his life please tap the link below.
Video

16 entries.
I'm just hearing this news several months after Dr. Foley's passing. I had the privilege of working with Dr. Foley twice when I interned at Holmes in administration. I learned a lot from observing his leadership style. My father had high regard for him as a surgeon, as well. A great man indeed, who left his mark on his community & beautiful family. My sincerest condolences.
Dory and I have been privileged to know Mike and Dotty and their family for over 55 years, as neighbors and friends, and shared our affection for family, caring and striving to live and serve our community to the best of our abilities. Mike's service to our country and the development of the excellent medical establishment in South Brevard was outstanding. We will miss his ability to "cut through" complicated issues to get to the heart of the matter. We are saddened by his passing, and trust that the family will be sustained by their wonderful memories of his life. Love, Walt and Dory (Mr. and Mrs. Fred)
My heartfelt condolences to you, Dotty, and to all of your family for your loss. I hope that the warm memories of his life well lived will help sustain you in this difficult time. (The video was very nice. Lots of familiar faces). Thank you for sharing that.
Our family and neighborhood was so saddened to hear of Doc Foley's passing. We all loved to see him walking down the street with his "second favorite girl, Sandy whom we called "Lucky". Lucky, because she was a rescue and also because she was walked so often by Doc and then in recent years by Dotty. We enjoyed our in the street conversations and will miss him dearly. God Speed, Doc. You truly had a life well lived.
Robert R. Callahan BS, DDS
I was so sad to hear about the passing of Mike. He was a special person with many talents and interests and a personality that endeared him to everyone. He had a huge impact on the community as a whole and on each person he met as well.
He was always a good man first and the a great surgeon,
I have such great family memories with the Foley family. Dr. Foley was such a wonderful, gentle and caring man. What a legacy his family has to remember. He will surely be missed!
Mike was a person who truly cared about people and one of the doctors that built the healthcare system in Brevard. He was a humble man who provided a great service to our community. He will be missed.
Special tribute to special friend and neighbor at Lake Oconee, GA. Love and prayers to all the family and friends. Praying for the Lord to give you His strength during these hard days and happy memories in the days ahead. Love, Jane
A wonderful Dr. and family man. Many fond memories.
Mike will be remembered and missed by many. Condolences and love to Dotty & family.
I didn't really know Dr. Foley too much, but I was happy to have gone thru Jr. and HS with Cathy and John. My condolences to the family. Danny G.
Miichael J was not only one of my closest friends, but my mentor, my counsellor, my corner man and personal insiration. I loved him. For 27 years he was always there to advise me and try to run interference. We had some fun and made some good things happen. You never really know someone, until you have shared a fox hole and Mike was more of a friend than I could have ever asked for. I will always miss him. M
Mike was a wonderful friend and mentor. He made an indelible mark on our community through his heroic efforts to improve health care for all of our citizens. Mike was the personification of "service above self."
I am sorry to hear of the passing of Dr. Foley. I have some good memories meeting him in my earlier years. Hopefully it was mutual, excluding the time he found Kevin and I on his roof! May the family have solace knowing he is in peace.