Norma Doucette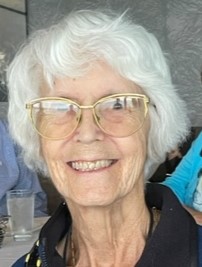 Born on March 21, 1933 in Waltham, Massachusetts
Departed November 10, 2023 in Rockledge, Florida
Norma Doucette, 90, of Melbourne Beach, Florida passed peacefully on November 10, 2023 after a heroic 22 year battle with cancer. She was born on March 21, 1933, in Waltham, Massachusetts to Tilmon and Florence Pellerin Arsenault.
She is survived by her sister Linda (Carl) Logiudice of Melbourne Beach, Florida; her brother Roger (Marjorie) Arsenault of Newton, Massachusetts as well as many nieces and nephews.
She was preceded in death by her husband Walter Doucette; her sons Michael and David; her parents Tilmon and Florence Pellerin Arsenault and her brothers Roy, Henry, and Paul.
Norma was a devoted wife and mother. She was well respected by everyone who knew her. Prior to her battle with cancer, Norma was a Eucharistic Minister for Immaculate Conception Church.
Norma will be remembered for her love and dedication to her family and friends, to the Catholic Church, as well as her love of life.
Her Funeral Mass will be held on Wednesday, November 29, 2023 at 11:00am, at Immaculate Conception Church, 3780 SR-A1A, Melbourne Beach, Florida. The internment of her ashes will be in the church memorial garden directly following Mass.
7 entries.
We are so glad that we got to share time and experiences with Norma during our visits with you and Carl. She was quite the lady. Always with a smile and ready to go on the next adventure. We especially remember the good times we had in Sint Maarten along with being a part of her 90th birthday celebration. She's at peace now and will be greatly missed. Love, John and Angela
So pleased to have known this sweet lady, if only for a few years. She was the bright spot in our community. Linda and Carl, you were the best caregivers ever. You made her life so much better. ❤️
We have known Norma for many years❤️as a family member and a neighbor in Florida since 1987. She was a wonderful lady and a pleasure to have in our lives. The memories will live on in our hearts forever till we meet again🙏🏻 She was a fighter to the end🙏🏻 She will be sincerely missed by so many people. May Norma rest in peace and be reunited with Wally, Michael, David and her parents ❤️🙏🏻🫂🙏🏻💔
Norma was so full of life and living that she was a force to be emulated, and that was even before knowing about her battles with cancer. Rest in peace, Norma. It was a pleasure knowing you.
Dear Family, Norma, will truly be missed. She was such a kind and loving Lady. Prayers, Hugs to the Family. Have fun with Walt. Love, Pam LECCEARDONE & Family
Norma was such a great person to know. I'm sure Wally was waiting for her with open arms. May she rip.
Dearest Linda and Carl. We are so sorry for your loss. Norma was a sweetheart and she has given you such wonderful memories. She has been through so much in the last few years And presently is without pain or worry. She has joined Wally and her sons. You both have been such amazing caregivers to her, to which she was grateful. God Bless , stay strong and relish those memories. Love to you both. Alex and Kathy