Sharon Ann Fleenor Jones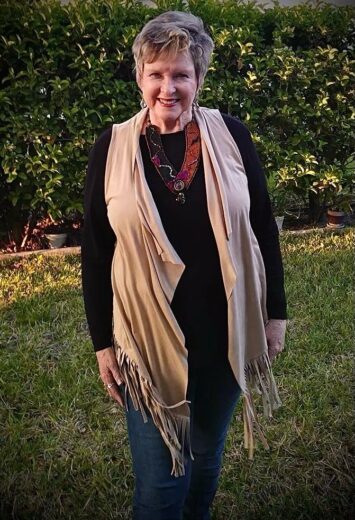 Born on November 13, 1950 in Pennington Gap, Virginia
Departed December 28, 2022 in Tampa, Florida
Sharon Ann Fleenor Jones was born in Pennington Gap, Virginia on November 13, 1950 to Jack and Ann Fleenor. She was a long time resident of Melbourne, Florida before moving to her forever home in Glory on December 28, 2022.
Sharon is proceeded in death by her mother Ann Fleenor; father Jack Fleenor; great grandson Justin King, Jr. and nephew Douglas Driggers.
Sharon is survived by her husband of more than 35 years Rowan Jones; daughter Lea Lord; son Steve Jones (wife Thao); daughter Stacia Walker (Husband Walt); sister Sherie Weber; brother John Fleenor (wife Norma Jean); six grandchildren; eight great-grandchildren; several nieces, nephews, cousins, brothers & sisters-in-law.
Sharon was a beloved wife, mother, grandmother (AKA Mimi), great grandmother, sister, aunt, cousin, and friend. She was a gifted artist who used her talents to showcase the beauty of God's creation with whatever she was inspired to create. She was a silversmith who loved to cut and polish her "God-Rocks" to create beautiful jewelry from them. She was an amazing artist who will be dearly missed by her surviving family and countless friends.
Sharon loved the Lord with all her heart and loved to minister and witness to all those she came in contact with including her entire surgical team and numerous healthcare workers, pointing the way to Jesus. She was also a Ladies Bible Study teacher, confidante, counselor, nurturer and encourager to many ladies at her church, Calvary Chapel in Melbourne. She truly exemplified the virtuous woman described in Proverbs 31:10-31.
Her family will greet friends from 12:30 until the time of her Celebration of Life on Saturday, January 14, 2023 at 1:00 pm at Grace Church, 2820 Minton Road, Melbourne, Florida 32904. A reception will follow for family and friends.
Friends planning expressions of sympathy are asked to consider making a donation to the charity of your choice.
19 entries.
I will always remember Sharon for her pleasent smile and joy for life. I was blessed to spend many hours with her discussing her love for her Lord. She shared a deep concern for others. Sharon faced life's challenges with grace and joy. The world is a better place because she was here. She will be sorely missed by her friends and family.
Good bye my sister. I'll see you again LOVE YOU!!!
We are sorry to hear of Sharon's passing. But we know she's in heaven with the Lord. Hold onto the good memories that God has given you! We would love to see you Steve and are so happy for you and your new bride!
My heart is broken to hear of Sharon's passing. We met at Calvary Chapel and became friends. Sharon was always the one I could go to and she would always find the words to help. I so hoped to be down there for another diva party. She was a beautiful person inside and out, and it was my blessing to have shared time with her. Will miss you my friend and teacher.
Sharon was a beautiful person. She was a great friend. She will be missed. We had fun together, we laughed and cried together and bought rocks together. Rest in peace my friend. I love you always.
My first time meeting Sharon was at one of her many Bible Studies she co- chaired with Jo. She had a way of digging deep and classes were very personal. Oh how we loved to talk about Jesus and life with God. Bonding a group of ladies to a forever relationship came easily. She loved getting us together to be fun loving creative women. So many great times together. Hours of conversations on everything. We shared a long list of prayer concerns over the years and watched God answer them. Although Sharon fought physical pain often she rarely let it stop her from being active in living life to the fullest. Her love for God, Rowan, her family and her friends were fierce and centered in prayer. A truly beautiful woman of God. Her light that so brightly shined on earth will continue to shine in the lives she touched.
So sorry to hear of Sharon's passing. Our thoughts and prayers are with her husband and family. May God comfort you and give you peace as only He can.
Sharon and I had many talks about silversmithing. She did beautiful work. May she rest peace.
Sharon and I had many talks about silversmithing. She did beautiful work. May she rest in peace.
Sharon was a beautiful person. She Loved the Lord and anyone she talked to called her friend. I love my necklace you made me and will Cherish it always. Not gone but separated. One day we will be together again ❤️❤️ forever with the Lord
A remarkable woman, I'll miss her dearly.
Rest in the arms of the angels, my beloved cousin. My heart is heavy at your going, but I know there is rejoicing in heaven. We send our deepest sympathy to Rowan, your children, Sheri, John and all the rest of the family.
Sharron will be much missed. I loved her kindness, friendliness and thoughtfulness, just to mention a few of her attributes. She was such an amazing artist and person. Our thoughts and prayers go out to Rowan, her family and friends. Mary and Ed
I am Sharons brother and to say her passing was a shock is an understatement. She was a VERY unique person and although we had some major differences she will be missed until we meet again! I LOVE YOU STILL!!!
Jones Family, I'm so sorry for your deep loss. Sharon was a beautiful lady inside and out. She was beaming every time I visited with her and always had the most positive outlook in life. I'm so grateful for having met her and even more so for visiting with her and Rowan over the Summer. I know your loss is heavy right now and we will continue to pray for comfort for you all. Rest well, Sharon....you will be sorely missed.
My condolences Steve and the rest of the family. I will be praying for you.
Truly there was only one Sharon and she will be greatly missed. Prayers for her family and friends.
Good-bye for a while my wonderful, Christlike friend. You were/are such an inspiration of love, kindness and friendship. You were truly a gift from God and I will always count it a privilege that I got to know you. Love and prayers for comfort and peace to Rowan, Sherie, Steve, John and all of your family members.
Those who knew Sharon loved her smile and laugh! Her wit was unmatched and she was just a lovely person! A fiercely devoted follower of Jesus and she loved her family and friends. As she led her Bible studies, she was humble and honest in relating to everyone and the challenges we all face. I will miss you dearly Sharon, but we will have a big Diva party in Heaven!! Prayers and love to Rowan, Sherrie and Lea and all the family!