Irene Elizabeth "Betty" Stahl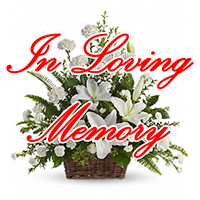 Born in Daytona Beach, Florida on August 6, 1930
Departed in Melbourne, Florida on March 7, 2019
Irene Elizabeth "Betty" Stahl, 88, of West Melbourne went to the Lords presence on Thursday, March 7, 2019.
She was a Native of Daytona Beach, FL and moved to Brevard County in 1964. She was a homemaker and a member of Bowe Gardens Baptist Church.
Survivors include Daughters, Brenda (George) Bryant, Susan Puzycki, Deborah Natale, Pamela (William) Higginbotham and Eillen (Billy) Carter; sons, Raymond Wilkinson, Stephen (Louann) Wilkinson and Harry (Marty) Stahl III; over 100 grand, great and great-great grandchildren; sisters, Mary Lou Stahl and Barbara Lovett. Predeceased by her husband, Harry and a son, Butch.
A Celebration of her life will be at Bowe Gardens Baptist Church on Thursday, March 14th at 12 Noon with calling for one hour before the service.
I love you and will miss you Aunt Liz.