Ann Marie Fahy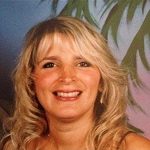 Born on April 28, 1963 in Guardia, Italy
Departed in Melbourne, Florida on March 30, 2020
It is with great sadness that we announce the sudden passing on Monday March 30th, 2020 of Ann Marie Fahy , 56 of Indian Harbour Beach, FL.
Ann Marie was born in Guardia Lombardi Italy to her parents Luigi and Ana Siconolfi. Ann Marie lived in Switzerland briefly before moving with her family to the United States and settling in West Harrison, NY.
Ann Marie was fortunate enough to have two careers, a special education teacher and a real estate agent. Each career was extremely fulfilling, as Ann Marie was able to shape the lives of so many students and assist homebuyers in purchasing their dream home.
Ann Marie is survived by her husband Paul, three children Joe, Anthony and Briana, daughter-in-law, Brigida, two grandsons, Joey and Steven, and much extended family and friends.
Ann Marie's caring & loving nature, generosity, and warm hugs will be missed by all!
Services will be at a later date.

22 entries.
To have lost you so quickly is unimaginable. You have always been a second daughter to us. We've shared so much together, and those are memories we will cherish forever. Joey, Anthony and Briana are better people for having a mother like you. Always listening and never judging and always there to help. We'll always love you ?
My beautiful sister-in-law. I will always cherish the memories we shared together. You will always hold a very special place in my heart. Life won't be the same without you here. You've always put family first, and that's what made you a truly great Mom and Grandmom. You will be missed but never forgotten. I know in my heart of hearts that you will always be looking down and watching over us. You've always done such an amazing job shaping your children to be what they are today, honest, caring, loving. I will always love you?⚘
Ann Marie was such a pleasure to work with. Over the years I always looked forward to the conversations and laughter. My condolences to her family. She touched many lives and will be missed.
Last night I dreamt with you; you were wearing a red jacket and pearls. You looked so elegant as always. We gave each other a kiss hello and big hug. My dear friend, You will forever hold a special place in my heart ♥️ I will miss our our easy and sarcastic conversations full of laughter. Our social gatherings will never be same without you because you were like family to all of us. ♥️
It was a joy to have known Ann Marie. She was always so sweet, and a good friend. She will be missed.
My condolences to Anne Marie's family. She was such a wonderful person and I always enjoyed working with her. She was such a hard worker and we always had a laugh or two when working together. She will be missed by many . Sincere Sympathy, Lynn Steffen
She is a beautiful person inside and out!!!!! She will be missed.
From being New Yorkers to becoming a Beachwoods family. I don't even remember how long ago it was when we met and became friends. However, I do remember what our friendship was like and it was extremely special. In my lifetime I have had a lot of friends , but only a few have become family and you were family. You were loving, kind, a vivacious spirit, a voice of reason, sensibility, and understanding. You did really listen to people and give good advice. You made people feel at ease and there was definitely a comfort and joy to be around you. You were not only a friend, but a second mother to my son and my nephew, Joseph ( You were so very tolerant and patient with him). You were a wonderful mother and grandmother. Loving your family , " to the moon and back." And for all those reasons that's why I chose you to be mt daughter's godmother. You truly were a great person and we're all going to miss such an angel. However, heaven is lucky to have gained such an exceptional one! Love and miss you and continue to do what you do best : protect those you love! ? Xoxoxo Kathleen
Ann Marie you will be missed. You always had a way of maken people feel so loved . May your family find comfort at such a difficult time .♥️
I am so saddened by the loss of Ann Marie; she was a wonderful person and good friend. She was such a generous and loving person. Everyone who knew AnnMarie loved her! I will be praying for Briana, her sons and her Grandsons. They were her pride and the joy of her life. I pray that the God of all Comfort will be with her entire family and friends. In His Love, Diana Sivadon-Purdum
Ann Marie was a beautiful human being. She was caring and loving to so many. My heartfelt condolences to her family & friends. She will be truly missed. Heaven has gained an angel to watch over us & keep us in check. Until meet again Ann Marie ?
You will be missed my sweet friend! I'm so thankful to have known you and I'm going to miss picking you up for all our adventures out and about...work adventures, house parties and Taco Tuesday will never be the same without you...rest in peace❤️
Ann Marie helped my wife and I through our vintage estate home build.. She was always happy and on top of her game. Her #1 goal for us was to make sure we were happy and was over joyed when we finally closed.. She was so helpful and we are so grateful she was a part of our life for that short time. We are saddened to hear of her passing and pray for strength and healing for her family and friends..
You will be missed by everyone here at your VE Homes family Ann Marie!
Ann Marie and I worked together over the last 5+ years and became friends during that time. I will miss her warm and kind-hearted spirit very much. Prayers for all her family and closest friends.
I would like to say that I remember the first day we met, but I don't. I think it's because we became such fast friends and then became more than friends - we became family. There are very few friends, if any, in your life that will not only love you but will love your children as their own. You are Joseph's "second mom" and I can just hear your gentle voice "scolding" him when he was being stupid. I remember when he was in grade school and he made an ornament in class and came home and gave it to you rather than me. While this action may have hurt another mom's feelings it just made my heart happy that he had you. That we had you in our lives. You were truly a gift to my life and thank you for being such an amazing and loyal friend to me. It is said that "the biggest communication problem is that we do not listen to understand, we listen to reply". Well, you were one of those very rare people that would truly listen to understand. Regardless of what may be going on in your own life, you would never let that get in the way of being there to just listen and be a great friend. You are the most self-less person I have ever met and truly a woman of strength. My heart is broken that you were taken from this world so soon, I didn't get to say goodbye and honestly, I wouldn't know how to say goodbye to you. I love you so much and miss you. I will always treasure the memories we had and hope that they can provide some comfort now. Until we meet again, my best friend who has now become an angel. Save a spot for me. xoxo, Eileen
Gone from our sight, but never from our hearts. With sympathy. Thinking of your family and sending love. Love always Mo. ( Eileen)
Ann Marie was a kind wonderful woman and we are so blessed to have known her.
When I think of Ann Marie I will always smile as she was so kind, caring & a pleasure to work with always. Know she is soaring w/ the angels. Prayers for her family & friends as she will be missed.
Ann Marie was my friend for many years. She always talked about her Family and how much she loved her daughter, sons, daughter in law and grandsons. I will miss her so much. I wish her family the strength they will need now and moving forward. To Ann Marie, Rest In Peace my friend ❤️