Jonathan Michael Ruddock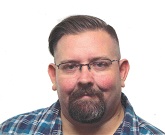 Born on December 4, 1977 in Portsmouth, New Hampshire
Departed February 14, 2023 in Orlando, Florida
Jonathan Michael Ruddock died suddenly on February 14, 2023, from injuries sustained in a motorcycle accident. He was 45 years old.
He was born to Ken and Linda Ruddock on December 4, 1977. He was the oldest of their three children. After graduating from Eau Gallie High School, Jonathan went to Brevard Community College where he obtained his Emergency Medical Technician (EMT) and Paramedic Certifications. From there, he transitioned to the University of Central Florida, earning his Registered Nurse license.
At the time of his death, Jonathan was a nurse at AdventHealth in the Lake Nona Emergency Room where he had worked for the last two years. He had been previously employed as a Paramedic by Orlando Regional Healthcare, Orlando; Rural Metro Ambulance Service, Orlando; Nature Coast Emergency Medical Services, Inverness and Coastal Health Systems of Brevard, Rockledge. In addition Jonathan also was a Sales Agent for Bankers Life and Casualty. Once he earned his license as an RN, he held positions with Prison Health Services, Fort Pierce; Pediatric services of America, Melbourne; Wuesthoff Hospital (now Melbourne Regional Medical Center), Melbourne; Advent Health East , Orlando and was a travel nurse for three years. Jonathan also volunteered and was employed as an EMT with Harbor City Volunteer Ambulance Squad.
He was an active member of the Boy Scouts, where he volunteered for several years. Jonathan's hobbies included Civil War reenactments and professional photography, and he was an active member of the High Road Jeeps club. He also acted as a volunteer adjunct proctor in Emergency Medicine at BCC and Eastern Florida State College.
Jonathan is survived by his daughters, Felicia, Jessica, and Julianna of Melbourne, FL; his parents, Ken and Linda Ruddock of Melbourne, FL; his brother, Patrick [Mandy] Ruddock of Jacksonville, FL; and his sister, Jennifer [Bryan] Decelles of Palm Bay, FL. He also leaves behind five uncles and one aunt, Michael [Rose] Schmitt of Melbourne, FL; Roger [Marian] Schmitt of Valrico, FL, Brian Schmitt of Johns Creek, GA, Tim Ruddock of Seattle, WA, Kevin (Bobbie) Ruddock of Lakewood, WA and Teresa (Tony) Newman of Tacoma, WA; as well as two nephews, numerous cousins, and several Great Aunts and Uncles.
A Celebration of Life Mass is scheduled for March 2, 2023 at Our Lady of Lourdes Catholic Church at 2:00 pm in Melbourne, FL. In lieu of flowers, please donate to (Jonathan's gofundme page Go Fund Me or AdventHealth).

2 entries.
Ken, Linda & Family, We are so sorry for your loss. You are in our thoughts and prayers as you go through this difficult time.
We love you guy's and are so sorry for your pain. We pray for uplifting at this time for you!