Amy Utley Edgerton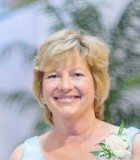 Born in Durham North Carolina on November 9, 1961.
Departed in Palm Bay, Florida on October 22, 2018
Amy Utley Edgerton passed away on October 22, 2018 after a gracious and courageous fight with cancer and is now smiling and dancing pain free in the loving embrace of her Lord and Savior Jesus Christ. During her journey, Amy's faith shined stronger and she willingly shared it with many who faced similar illnesses through letters and words of encouragement.
Amy was a beloved mother, daughter, wife, sister, aunt, and friend to many. A resident of the Indialantic, FL area for 31 years, her true passion was spending time at her "happy place" in the cool mountain air of Maggie Valley, NC.
Amy was the daughter of Donald E. Utley and Margaret "Dolly" Daniel Utley of Durham, NC. Amy was a true Carolina girl. She was born in Durham and received her degree in nursing from the University of North Carolina at Chapel Hill. She worked in the OR and specialized in eye surgery in her early career before becoming a nurse consultant and care manager. She was a gifted pianist, artist, writer, and decorator, and loved watching her favorite shows on HGTV.
Amy is survived by her husband of 31 years Eric, daughter Paisley and her husband Eric Carpenter, and son Jordan Edgerton, all of the Melbourne, FL area as well as her sister Tracey, her husband Travis Martin, and niece Sydney of Raleigh, NC. Amy was lovingly known as "Mom" and will be truly missed by her family and friends.
A memorial service to celebrate Amy's life will be held at Life's Oasis Church in Melbourne, FL on Saturday October 27th at 2pm. In lieu of flowers, please consider donating to Candlelighter's of Brevard or your favorite cancer support organization.
5 entries.
Eric, my heart hurts for the loss you and the kids are feeling right now, but I know God is good and will hold you all in His arms as you walk through this. Amy will forever hold a special place in my heart. She trained me on applications. I trained her on Care Management. She was so loving and kind and will be missed greatly! Praying for the comfort only God can bring you!
I am saddened to hear of Amy's passing, but know she is looking down on her loved ones pain free. Praying for all of you at this time of loss.
Rest Peacefully, Amy. My condolences to the family. May Gods Peace be yours.
It is with Great sorrow I extend my sympathy to you all. I am so sorry you are going through this difficult time. I pray that God will bless you and feel your deepest aching spot today, tomorrow and for years to come.
To the family of Amy. I am so sorry for your loss. She truly had a smile that could light up a room.My thoughts and prayers are with you and I know that she will be smiling down at us everyday. John Brewer