Robert Duane Carter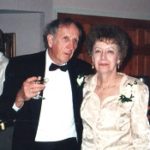 Born on December 6, 1931 in Iowa City, Iowa
Departed in Melbourne, Florida on January 11, 2020
Robert was born in Iowa City, Iowa in 1931, and grew up in West Liberty Iowa. Basketball was his favorite sport and he played on the his high school team. He was a member of future Farmers of America, an organization that supports agricultural education for youth in rural farming communities.
He served in the Navy during the Korean War; received the medal of Good Conduct and the National Defense Service Medal, and was Honorably Discharged. He spoke a lot about his time in the Navy, especially about how big the waves were at times and about riding through a hurricane one time.
He met his wife Dorothy in Iowa City and they were married in September of 1956. Together they had 4 children; Vicki, Rick, Terry and Gary. They were married for 62 years until she passed away in 2018. He lived and worked in California, Missouri, Iowa, and Florida. He worked at Collins Radio in Cedar Rapids Iowa, and then moved to Florida to take a job at Radiation. Later he worked as an Engineering Manager and Director at Harris Corporation in Palm Bay, Florida. While working at Harris he earned a Masters degree in Electrical Engineering, and a Masters in Business Administration from Florida Institute of Technology.
He loved to watch basket ball games on TV, especially the Orlando Magic. He also loved to watch and play "the wheel" (Wheel of Fortune) with Dorothy. It was a daily routine for both of them for many years.
He was predeceased by his wife, Dorothy Carter. his parents Alfred James and Gladys Marie Carter, his Brother Alfred "Bud" Carter (Mary), and sister Jean Swails. He is survived by 4 children; Vicki Clay (Joe Clay), Rick Carter, Terry Carter, and Gary Carter (Laura Carter) and 4 Grandchildren; Christopher Carter, Michael Clay, Lindsay Carter and Amber Clay. He was very proud of all of his children and grandchildren. He lit up especially when his grandchildren walked into the room. He always wanted to know how they were doing and what they were doing at school.
Donations in his memory may be made to the Alzheimer's Association. (www.alz.org).

1 entry.
My condolences to the family. God bless all.