Karen Miller Whelehan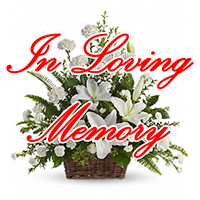 Born in York, Pennsylvania on October 20, 1957
Departed in Palm Bay, Florida on December 14, 2018
On Friday, December 14th, 2018, Karen Miller Whelehan, loving wife, daughter, mother of two, grandmother of four, and beloved friend and co-worker to many, passed away at the age of 61.
Karen was born in York, PA. She attended high school at Miami Edison and received her Bachelor of Business Administration in Finance from Florida International University. Karen married Dermot Whelehan, the love of her life, on December 18th, 1976. Together as best friends and loving partners, they raised two sons, Todd and Brian, and rejoiced in their daughter-in-law, Iris, and their grandchildren, Mitchell, Ashlee, Lily, and Callie. Karen was the accounting/business manager at Our Lady of Lourdes Catholic Church in Melbourne, FL for over 15 years.
Karen was a passionate crafter and delighted in making quilts, Christmas ornaments, and decorations for her family and friends. She was known for her gentle and compassionate spirit and her graceful and steady hand through life's difficult times. With grace and good humor, she followed her husband all over the country throughout his Marine Corps career.
Karen was preceded in death by her brother, Chuck Miller. She is survived by her husband, Dermot, her mother, Joan Monroe, her stepfather, Frank Monroe, her children, grandchildren, and a wide circle of family and friends.
A funeral Mass will be celebrated for Karen at Our Lady of Lourdes Catholic Church, 1626 Oak Street, Melbourne, FL, 32901 at 1:00 PM on Thursday, December 20th, 2018. In lieu of flowers please send donations in Karen's name to Our Lady of Lourdes Catholic Church. Her family wishes to especially thank Father Karl Bergin and the staff of Our Lady of Lourdes for their love and attention to Karen during her illness.
4 entries.
So very sorry for your loss.
Dermot, Our condolences to you and your Family. Our thoughts and prayers are with you. Greg and Sheila.
Dermot, I am so sorry for your loss, and my heart hurts for you. Your family will be in my thoughts and prayers.
Dermot- My condolences , I am sorry for your loss God Bless Tony and family