Carolyn Tyler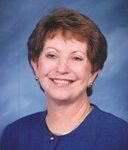 Born in Old Fort, North Carolina on November 19, 1937
Departed in Palm Bay, Florida on August 22, 2019
Carolyn Tyler, 81, of Melbourne, FL was born in Old Fort, North Carolina and passed away on Thursday, August 22, 2019 in Palm Bay. She was a retired Accountant and Office Manager and a member of First Baptist Church of Melbourne where she was very active in Salt & Light Sunday School Class.
Survivors include her husband, Dale; a daughter, Melissa (Curtis) Meador; stepsons, Matt (Karen) & Vince (Susan) Tyler; stepdaughter, Daelyn (Dale) Dillahunty; 12 grandchildren; many great-grandchildren and a brother, Ron (Brenda) Calloway.
Carolyn will be remembered for caring for others, her sweet spirit and hospitality to all she met.
Calling hours will be in the Brownlie-Maxwell Funeral Chapel on Sunday, August 25th from 3pm until 5pm with a service to follow at 5pm.
Donations in her memory may be made to WCIF (Where Christ Is First) Radio Station, c/o First Baptist Church of Melbourne, 3301 Dairy Road, Melbourne FL 32904. www.brownliemaxwell.com