Catherine D'Rall Noren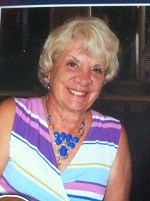 Born in Bronx, New York.
Departed on November 26, 2020 in Melbourne, Florida
Catherine D'Rall Noren of Melbourne, Florida passed on November 26, 2020. Born and raised in The Bronx, Cathy, was a self-professed "Staunch Irish Catholic." She met her husband, Robert, who coincidentally lived right across the street. They were married for 52 years.
Bob and Cathy lived in 6 states, up and down the East Coast, spending equal time (over 20 years) in both New York and Kentucky, where they discovered their love for UK Basketball (Go Wildcats!). Ultimately they retired in Melbourne, Florida where Cathy fulfilled her life-long dream to be a police officer as a VCOP (Volunteer Citizens Observer Patrol).
Cathy's family includes her husband Robert, daughters Teriann (Rob) Ellis and Diane (Luther) Andal, 5 grandchildren Tyler, Trevor, Kylie, Robby, Allie and a sister, Jean Uhl.
If you are considering flowers, the family has asked that donations be made in Cathy's name to Hospice of Health First, as the family would like to thank them for the amazing and loving care that they showed towards Cathy and the family.
Visitation will be on Thursday, December 3rd from 6-7pm at Brownlie Maxwell Funeral Home, (1010 E. Palmetto Avenue, Melbourne 32901), with a memorial service immediately following.
7 entries.
I pulled duty with Cathy many times as a Vcop. We enjoyed talking about our families. I will miss her.
Beautiful memorial we feel honored and blessed to have known Cathie. She was always a delight and her beautiful smile will be missed. Our prayers goes out to the family during this difficult time. Bob, there will always be a Diet Dr. Pepper and dog bone at 946. God bless you all❤️The Wilk's
Sending lots of love and prayers to the whole family.
Nellie and I have lost a dear friend . Cathy was my VCOP partner for four plus years and she was a great, dedicated VCOP. She was a joy to work with and we had ongoing discussions about English grammar. We both thought ourselves experts! Cathy was a great Lady and friend.
As Melbourne's VCOP Support Manager I can attest that Cathy will be sorely missed. I/we will also miss her as a friend as well.
It was always such fun playing tennis with Cathy. She will be missed.
So sorry to learn of your loss. Your family will be in our prayers.