Ferris S. Wing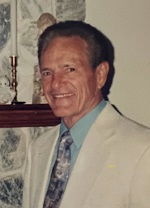 Born on September 10, 1930 in Jacksonville Florida
Departed on March 14, 2021, in West Melbourne, Florida
Ferris S. Wing
Palm Bay, Florida – Ferris Stanley Wing, 90, was born in Jacksonville, FL and passed away March 14, 2021 in West Melbourne, FL. Ferris was a retired Branch Manager for RCA and Real Estate Broker. He moved to Melbourne in 1993 from Tampa and was a member of Central Baptist Church. Ferris was a USAF veteran; played football for University of Memphis for 4 years where he graduated with a BS in Business Management. He was an Ordained Deacon and an Adult Sunday School Teacher.
Ferris is survived by his wife, Peggy; sons, Stan and Gary; 4 grandchildren; 4 great grandchildren and 2 great-grandchildren on the way.
Graveside service will be Tuesday, April 13, 2:30 pm at Cape Canaveral National Cemetery.
1 entry.
To Peggy and family, Ferris was a wonderful person and I was honored to have him as a friend and client for many years. I hope you all are well and send my thoughts and prayers to you all. Brian Schwind