Helen Diane Long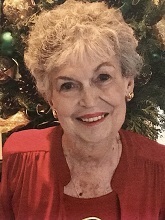 Born on December 31, 1937 in Jersey City, New Jersey
Departed September 6, 2022 in Melbourne, Florida
We are saddened to announce the passing of Diane Long of Melbourne, FL on September 6, 2022. Diane was a resident of The Fountains of Melbourne.
Born Helen Diane Lefevre on New Year's Eve in Jersey City, NJ in 1937, Diane grew up in Florida. When she was a child, her family moved to Key West, and later to Miami, where she attended Sts. Peter and Paul High School, was named Kiwanis Queen, and was valedictorian of her class. She was awarded a scholarship to Barry College in Miami Shores, where she studied English and graduated summa cum laude. After an internship at the Miami Herald, Diane taught English at Coral Gables High School in Miami, and later at Rutgers Preparatory School in Somerset, NJ.
Deeply devoted to her Catholic faith, Diane was a founding member of St. Joseph's St. Vincent de Paul, served as a lector, and volunteered at the front desk of Holmes' Regional Medical Center. She was passionate about books and gardens and had an aphorism for every occasion. Diane was a gifted hostess, who absolutely cherished the many friendships she forged over the years.
Married for 52 years to her beloved John, Diane's family takes comfort knowing that the two are at last reunited. One brother, Leo Lefevre predeceased. Surviving siblings: Pamela (Roger Walker) and Charles (Elizabeth) Lefevre. Diane is survived by her three children: Denise (Don Kremer), Christine (Ken Jones) and John (Jodie); seven grandchildren: Jillian, Kevin, Kyley, Haley, William, Allen and Thomas; and two great-grandchildren: Lewis and Murphy.
Visitation will be held at 10:00am followed by a Mass of Christian Burial at 11:00am on Saturday, September 10 at St. Joseph's Chapel, 1422 Miller Street, Palm Bay.
In lieu of flowers, a donation to St. Vincent de Paul Society's Dignity Bus in Melbourne, FL is suggested. Donations c/o SVDP Bruce-bus at 5330 Babcock St. NE, Palm Bay, FL 32905.
10 entries.
Denise and Chris, I am so sorry to hear of your mom's passing! She was so dear to me, as the two of you were during those special years of our lives. I will keep all of you in my prayers, Love Ya Sandy
What a beautiful woman! Devoted wife, Mother, grandmother and friend! So happy I was able to know her. May she rest in eternal peace with her beloved John
Denise,Don and family, I am sorry for your loss. Many prayers and hugs to you all
Our few encounters with Diane were brief, but it was obvious that she was a loved and respected woman. Still charismatic, with an engaging smile, conversations with Diane were interesting, informative and entertaining. Her gift of making others feel welcomed and appreciated remained intact. We are so fortunate to have had the privilege of meeting and spending precious time with Diane. God bless you Diane and your family. ❤️
Mama Long was a beautiful person. She was always warm and welcoming, with a gentle smile that made those in her presence feel like part of her family or community. She truly touched so many souls. Her grace and unwavering faith are clearly present in her children, Denise, Chris and John, as well as their loving spouses. She was also gifted with wonderful grandchildren and great grandchildren. She lived a blessed life, and I am thankful for all the joyful memories. To her final days, she was surrounded by loving family, friends and prayer. She rests in peace, reunited with Papa Long.
Wish we had known. Mom and I would have been there. 💔 We love all of you. Your Mom took me to my first professional play, Shakespeare's The Tempest, I believe. She was instrumental in my lifelong love of live theater. I was just thinking about her this weekend as Greg was sharing how I helped him love theater by taking him to Fiddler On the Roof in London with the actor Topol who was also in the movie. Love never ends.
Dearest Denise and family, we are so sorry for your loss. May your Moms Soul RIP. MAY THE ALMIGHTY GIVE YOU ALL, the strength to bare this sad loss. Love you. Please take care. 🙏🏼🙏🏼🙏🏼❤️❤️🙏🏼🙏🏼
Diane was a dear friend. I miss her grace, laughter and devotion; however, she is in a better place, and I try to hold that thought. We had such fun together. We had our Martini nights on the 1st Monday of the month...and I think it was Diane's idea to add the 3rd Monday. We called ourselves "The fabulous 5" and we laughed a lot at nothing and everything. I knew that when she prayed for me, everything would turn out as it should. She was so proud of all her family. We were both so happy to become great-grandparents. I am so glad I had a chance to meet you.
Diane was a dear friend, and I miss her. I know she is in a better place now, so I try to hold that thought. She was so proud of all of you. We got to compare great-grandchildren. Her grace, laughter, and charm will be remembered forever. We had such a great time with our Monday Martini night the 1st of the month that we added the 3rd Monday too. I think that was Diane's idea. We called ourselves the Fabulous Five. I felt that Diane had a direct pipeline to God. when she prayed for me, I knew that everything would work out the way it should.
We are so very sorry for your loss. Diane was such a kind and beautiful person inside and out. We will miss her.