Mary Magdalene Laird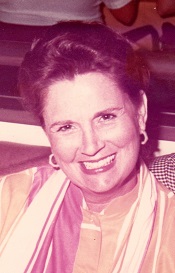 Born on July 7, 1927 in Pittsburgh, Pennsylvania
Departed on September 2, 2020 in Melbourne, Florida
Mary Magdalene Laird, 93, of Melbourne passed away on Wednesday Sept. 2, 2020. She was a native of Pittsburgh, PA and a retired Social Service Counselor. Beautiful Mary attended Ascension Catholic Church and was a member of the ACCW and the Hibernians.
Mary had her own wonderful sense of style and grace. She believed in putting her best self forward no matter the circumstances. Always dressed with a smile on her beautiful face and a nice outfit, she was known for her variety of scarves, earrings, and her famous red lipstick. This outside expression of joy generated from the love inside of her. She believed in the saying "Live, Love, and Laugh". She brought a smile to everyone she met. Her Irish humor lit up a room and her feisty, fun personality lightened the load for others. She had 1,000 wonderful stories and Irish sayings. She gave from her heart and had the rare gift of hospitality. She depended on her faith at the end of her life and was comforted by the love she felt from her family and friends (and the beautiful aides at Victoria Landing Assisted Living). She will be truly missed.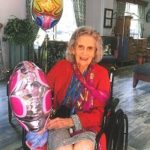 Survivors include daughter Diane Karschnick of Melbourne, grandchildren Tony Corso, Angela Waxler, and Nicole Corso and great-grandchildren Aurora Waxler and Mace Corso. Hammonds step family Rhema, Mac, Arielle and Kaleigh. Mary had so many special people in her life: her friends from Orlando, Laura, Michael, Leonor, and the Pa. Laird family, just to name a few. She was predeceased by her Husband Bud Laird, a daughter Mary Ann Walker and a son Tommy Stibber.
A memorial Mass will be celebrated on Monday September 14th at 11:30am in the Ascension Catholic Church.
Donations in her memory may be made to her church.

8 entries.
Diane, I heard the news of your mother passing. She was such a caring and sweet lady. Her name brought back so many fond memories of her from long ago. I am so sorry for you loss. My our Lord bless her and keep her safe in heaven.
I remember the first time I met Mary. Her daughter Diane and I both flew for Delta Airlines and lived as roommates in Miami for nearly 4 years. Mary came down from Pittsburgh to visit for a couple of days. As SOON as Diane introduced her mother to me, I felt a connection to her, and an instant joy from that radiant smile of hers! Her kindness to everyone was her most beautiful trait. And you NEVER knew what words of wisdom or funny little anecdotes she would add to a conversation! She and Diane & my mothe and I took a mini vacation to San Francisco. We had an absolute blast. I loved this remarkable woman, mother, and friend very much.. May you rest in Peace dear Mary.
Dear Mom, I miss you already. The angels welcome you and happy you have joined them in heaven. God Bless you.
A truly wonder person who will be sorely missed, She always treated me like a son for which I am forever gratful. My one comsolation is that she is now in a better place. Bon voyage Mary!
A truly wonderful person who will be sorely missed who always treated me like a son. I am comforted now by the fact that she is in a better place. Bon voyage Mary!
You were such a delightful and welcoming lady when we first moved here. I will always remember you for that and your loving continuing grace May you Rest In Peace. You will be so missed from ACCW and the Hibernians., and by me. Mary Stein and family.
We shared a similar sense of humor & i loved all your stories! Classy lady, great sense of style & I had the unique privilege of being your friend & your daughter Diane's too. You will be missed MM.
A new angel in heaven with a bright colored lipstick. Miss you already. Love, Diane