Nancy Ann (Higgins) Darby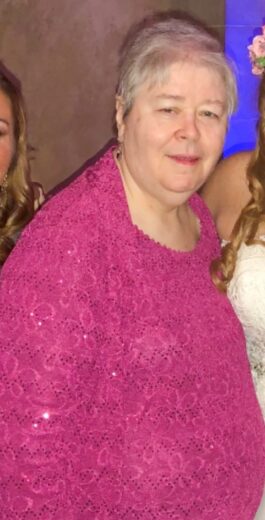 Born on December 14, 1949 in Woburn, Massachusetts
Departed January 29, 2023 in Rockledge, Florida
Nancy Ann (Higgins) Darby passed away in Rockledge, Florida on January 29, 2023 at the age of 73. Born on December 14, 1949 in Woburn, Massachusetts, she was the oldest child of Isabel Louise (Patterson) Higgins and Allan (Red) Wilbur Higgins.
Nancy and her beloved husband John met in 1989. John always claimed that Nancy "threw out her hook" the first time they met, caught him, and never shook him off. John won her over with his perpetual smile and rolodex of jokes. They married on November 24, 1991. Up until his death in 2018, John continued to have a twinkle in his eye when he looked at Nancy.
Nancy spent much of her time in service helping others. This was reflected in her work as a caregiver for elderly patients, as well as her long-standing membership, along with John, in several service-based organizations. Nancy was a devoted member of Eastern Star and even met John at an Eastern Star event. They served together as Worthy Matron and Worthy Patron of Aletheon Chapter in 2009 and 2010. Nancy was also a member of the Daughters of the Nile, where she worked alongside the Shrine to support the Shriners Hospitals for Children.
As a young adult, Nancy was a member of Winchester Assembly #50 of the International Order of Rainbow for Girls. She gave back to the IORG by serving as an Advisory Board member and Mother Advisor of Billerica Assembly #61 for many years. There, she devoted her time to enriching the lives and experiences of the young women in her assembly. Nancy was also a member of the North Congregational Church in Woburn, Massachusetts, where she donated her time to help others.
Nancy was a social butterfly who loved telling a good story and made friends everywhere she went. Her friends describe Nancy as being as sweet as can be, funny, and kind to everyone. She loved her bunnies and lighthouses, she was a skilled cook, and had a talent for working with crafts and quilting. She loved sewing, making her own wedding dress, as well as her sister Ellen's wedding dress. Nancy loved to travel and explore new places including several different countries. After living her whole life in Woburn, Massachusetts, Nancy and John decided to move to Florida to "get away from the white stuff" and enjoy warmer weather.
Nancy is survived by her sister Ellen (Higgins) Money and her husband Karl, her brothers Richard Higgins and his wife Leslie, Robert Higgins and his wife Suzie; her cousin Janice (Thompson) Evans; nieces and nephews, Jennifer (Money) Finethy and her partner Christopher Blais, Michael Money and his fiance' Kaitrin Krol, Kimberly Money Priddy and her husband Erik, Maureen Higgins and her partner Christian Abbott, Katie (Higgins) Stewart and her husband Nick, Jay Higgins and his wife Erin, and Todd Higgins and his wife Tonia; and her many great-nieces and nephews.
Her calling hours are from 2 – 4 pm Thursday, February 2, 2023 at Brownlie Maxwell Funeral Home, 1010 E. Palmetto Avenue, Melbourne, Florida. Her funeral service is at 10 am on Friday, February 3, 2023 at Pineda Presbyterian Church, 5650 N. Wickham Road, Melbourne, Florida. Burial will follow at Florida Memorial Gardens.
Please consider donations in her memory to Shriners' Hospitals or North Congregational Church, Woburn, Massachusetts.
1 entry.
You will be missed We enjoyed are monthly get together lunch and shopping. Rest in peace 🙏