William Harold "Bill" Rogers
William Harold "Bill" Rogers, 84, passed away of natural causes Sunday, June 7, 2020 at his home in Melbourne, Florida.
Bill was the oldest of three children, born January 1, 1936 in Monticello, Georgia to Ruth Ima Rogers and William Felton Rogers. He graduated from Newton County High School in Covington, Georgia in 1954 and immediately enlisted in the U.S. Army where he served until 1957. Bill again served in the armed forces, this time in the U.S. Air Force, from 1959 to 1964. Throughout his years in the military, Bill was stationed in multiple countries including Japan, Germany, and Turkey. Bill attended college at Port Arthur College in Port Arthur, Texas. This is where Bill met his beloved wife, Elizabeth Darlene Rudd. They were married in September 1968 at the Community Church of God in Melbourne, Florida where Bill was both a 52 year long church member and served the church by operating the sound and media system for the last few years he was able to attend. In 1968, Bill took a job as an electronics and communications technician at the Kennedy Space Center in Florida. He worked there under various government contractors until his retirement in 1999. Bill's career took him across the world; he traveled to places such as Morocco, Senegal, and Spain.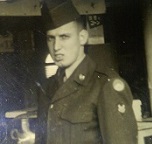 Bill enjoyed travelling, not only for his career, but for pleasure. He often took family vacations to visit extended family in Texas and Georgia. Additionally, he traveled to Germany with his wife and enjoyed local sightseeing. In his spare time, Bill enjoyed helping out family and friends with home projects and fixing home electronics. Most people get frustrated when something breaks around the house, but Bill saw those moments as challenges and enjoyed the thrill of problem solving. Bill's tenure at Kennedy Space Center, during the Great Space Race, left him with an awe and love for all things space-related. He enjoyed watching the launches he spent so much time supporting. Even after retirement, Bill still followed space launches and followed NASA events. Bill was overjoyed at the recent Space-X launch, texting family, "America is back in the manned Space Business AGAIN!!!! Hopefully the Russians can go to hell!!!! They made too much money off us in the last 9 years!!!" The only thing Bill loved more than space travel was spending time with family and friends, including his children, grandchildren, siblings, and in-laws there-of. In the last several years up until his death, Bill devoted himself to caring for his wife Darlene.
Bill is survived by his wife, Darlene; his daughter, Melanie Rogers Takamoto of North Carolina; his son, Ronald (Robin) Rogers of Tennessee; his brother, Lawrence Franklin (Merlita) Rogers of California; sister-in-law, Sandra (Wayne) Foster of Texas; grandchildren: Samantha and Aaron Takamoto of North Carolina; Madeleine and Ashleigh Rogers of Tennessee; and Joseph (Harika) Suvak of Tennessee; great grandchildren, Kyle and Alex Suvak of Tennessee; and numerous nieces, nephews, and cousins. Bill is predeceased by his parents and his brother, John Thomas Rogers.
A public memorial service is scheduled for Thursday June, 18, 2020 at 4:00pm at Brownlie-Maxwell Funeral Home in Melbourne, Florida. Private interment planned for a later time at family plot in Texas.
In lieu of flowers, the family requests donations to be made in his name to the Community Church of God in Melbourne, Florida.

6 entries.
Truly sorry to hear about Bill. He was a true friend to me in the Truly sorry to hear about Bill Rogers passing. He was a good friend to me in the Air Force and afterwards. We talked quite often and I always was glad to hear from him. My condolences to Darlene an the kids.
My thoughts and prayers are with all of you in this time of sorrow and grief.
I came to know Bill a little over 60 years ago through my sister, Darlene, when they were both enrolled at Port Arthur College. He and a few of their classmates would come visit in our home on weekends. Lots of fun memories. Later he and Darlene fell in love and married and had two wonderful children. Many years later on, her health declined and Bill became her caregiver. He was most devoted to her care and well being. He made many sacrifices in order to be by her side and provide the best of care. Our hearts are sad and we will miss him terribly!
I will continue to pray for you Ron. I pray for healing for your family. We had so few interactions with you dad, but he seemed like a really good guy.
I have so many wonderful memories of my uncle, "Red", the name I have always known him by. He was always a kind and gentle man, and I will miss him very much.
We miss our brother we knew as Hally. He was always the quiet one, always ready to help, give support and solve any problem. Of the three brothers, Hally was "the brain." Just as in the house of the Lord in this world, the other world has gained a valuable, loyal worker.