Bette I. Martin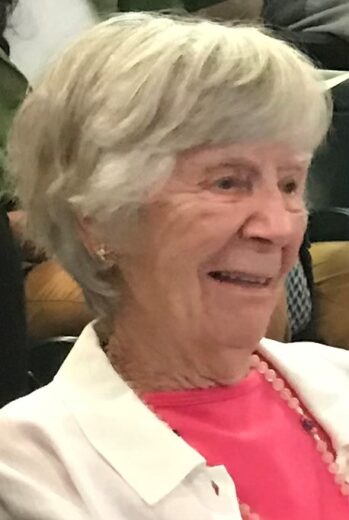 Born on January 17, 1925 in Lansdale, Pennsylvania
Departed December 30, 2022 in Palm Bay, Florida
Bette I. Martin was preceded in death by her husband of 42 years William F. Martin. Bette wil be missed by her three children Janet Martin-Aylam, William F. Martin, Jr., and Michael Alan Martin; her granddaughter Julie Martin; son-in-law Rangan S. Aylam and daughter–in–law Celia Martin.
Bette will always be remembered for her beautiful blue eyes and her sweet smile. Determination and a will to remain independent attributed to her longevity and good health. Cancer took her from us at the age of 97.
Born in Lansdale, Pennsylvania, Bette was one of six children born to Frank S. and Helen C. Saunders Walls. Her remaining two sisters Joan Walters and Susan Burge will miss her support, understanding and willingness to listen that they always received from Bette.
Lansdale High School was her alma mater; while there she was a member of the Home Economics Club and served as the Art Club secretary. Her working days included the telephone company in Collingswood, New Jersey; it was here that she met a group of women who became life long friends. She met her husband William (Bill) later when employed as a secretary for a firm in Philadelphia, Pennsylvania.
Bette enjoyed the best of both worlds summering in Avalon, New Jersey and wintering in Melbourne Beach, Florida. The screen porch of her Avalon home was a favorite gathering place for family, friends and neighbors. Often, jigsaw puzzles were worked on around her kitchen table. She was an avid reader with historic fiction being one of her favorites; she enjoyed nature and spent many hours in her garden. Other interests included quilting, crocheting and knitting. She was a member of a craft lady group that crocheted mats for homeless veterans.
A celebration of her life is being planned for Avalon, New Jersey.
Please consider donations in her memory to First Health Foundation (for William Childs Hospice House in memory of Bette Martin) 1350 South Hickory Street, Melbourne, Florida 32901.
5 entries.
We will really miss Mrs. Martin. Loved talking to her on the back porch, she was such a cool lady, always had her witty sense of humor, seemed like she was 27, not 97. Talking to her in the winter, she always reminded us of the weather in FL while we were in NJ snow 🙂 Especially liked hearing some stories of her time in Lansdale many years ago, since that is where we now live. Walking from the dock to the street just won't be the same without stopping to talk to her on the porch and giving the latest fishing reports. Prayers for her and the whole family.
Mrs. Martin is special. For four generations, over fifty years, our family is so grateful for your love, friendship, and kindness. Hats off to your family for taking such good care of you when you needed it. We will surely miss your smile, but your spirt will always be with us in Avalon, from so many wonderful memories. God Bless You Mr. and Mrs. Martin as you enjoy walks through Heaven holding hands. Thank you for being you.
My favorite memory of Bette was her enthusiasm for life. I will miss her small pecan pies that she baked for me every summer. She was my substitute mom all of the years I have known her. She will be missed.
Aunt Bette will suely be missed. Since I'm the Niece that lived in both states, I remember both screen porches in Avalon and Melbourne Beach. We enjoyed many sweet talks and her famous homemade pizza and salad lunches. Aunt Bette shared her love of reading with me over the years and offered some of her favorite reads. I think one of her favorites was "A Land Remembered" by Patrick D. Smith. It won the Florida Historical Society's Tebeau prize. I'm going to read it again soon in memory of my lovely Aunt.
I was honored to know Bette and to have been her friend. We spent many memorable times on that back porch in Avalon sharing stories but Bette's were always the best. I will miss our lunches together in Cape May but most of all I will miss her…