Billy S. Maples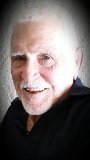 Born in New Hope, Alabama on January 4, 1935.
Departed in Palm Bay, Florida on August 7, 2018
Billy S. Maples, 83, a native of New Hope, AL passed away on Tuesday Aug 7, 2018. Billy moved to Melbourne from Miami Florida in 1962 and was the proud business owner of Maples Roofing Company for 30 plus years.
Billy was best known to be the driver of the "8 ball" car and the winningest racer at the Eau Gallie Speedway in the 1970's. He also was a Florida State Champion horseshoe pitcher for many years. His other hobbies were playing pool and golf. He was a veteran of the US Army where he became a golden gloves champion for boxing.
Billy is survived by his sons Richard of Merritt Island and Russell of West Melbourne, a daughter Robin (Dave) Panicola of Indian Harbor Beach, grandchildren Jason, Jessica, Justin, Shannon, Courtney, Michael, Katie and Sarah, eight great-grandchildren, his sister Marie (Alfred) Holland of Phoenix Arizona. and loved by many nieces and nephews. He was preceded in death by his son Randall S. Maples of West Melbourne.
He was a personality larger than life and will be missed by many!
A special thank you to Annalisa Duncan of Serenity Place of Palm Bay Florida. Billy was her baby and she gave him nothing less than outstanding care and so much love.
Billy will be laid to rest at the Cape Canaveral National Cemetery at a later date.
Any donations can be made in his name to the Alzheimer's foundation.
1 entry.
Do not ask me to remember, Don't try to make me understand Let me rest and know you're with me I am confused beyond your concept, I am sad and sick and lost. Kiss my cheek and hold my hand All I know is that I need you to be with me at all cost. Do not lose your patience with me, Do not scold or curse or cry. I can't help the way I'm acting, Cant be different though I try. Just remember that I need you, That the best of me is gone, Please don't fail to stand beside me, Love me 'til my life is done. -Owen Darnell. Dad, The last 3 years have been a difficult battle in oh so many ways but we fought together side by side. I am blessed to have been with you every step of the way! You fought the good fight and we both finished strong! I love you and will miss you all the days of my life. Until we meet again. Your Daughter, Robin <3