G. David Clark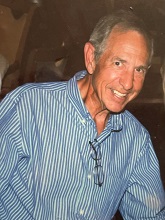 Born on August 14, 1941 in Port Huron, Michigan
Departed on January 5, 2022 in Melbourne Beach, Florida
G David Clark, originally from Port Huron, MI, currently from Melbourne Beach, FL and Saratoga Springs, NY depending on the weather, left us for a bigger card table on Wednesday January 5th 2022.
Dave was born in Port Huron, MI on August 14th 1941 to the parents of Glenn and Gretta Clark as a premature baby not expected to survive. Dave, Gimper, Papa or G David beat all odds early on and continued this disposition until his final days. On paper Dad sounded like the average male earning his way in the United States. However, to know him and the story he carried would paint a brilliant picture filled with beautiful color that always embraced the riskier the better. He defied the odds by overcoming obscure illness like meningitis and melanoma of the eye but never had the common flu. This narrative was essentially the fabric of his life.
He earned his bachelor's degree from Michigan State University routed through a stint at Graceland University in Iowa and teaching English as a second language in Colombia South America. This journey led him to his first wife, Nubia, the initial love of his life and mother of his three children. Dave prospered during his working career establishing his own business as an HVAC/R Manufacturers' sales representative that is still thriving today. If you knew him, you would understand that the day job would be the fuel to support his passion for risk taking in horses, dice, cards or anything that embraced excitement. Dave rolled the dice a second time around and came out a winner in love with his present wife Cheryl and inherited three additional children to love on. Dave's legacy also included 15 Grandchildren and 5 Great Grandchildren.
Anyone Dave encountered was always graced by his full attention. He saw and respected the good in each individual. Many were often blessed by one of his clever, humorous jokes and self-amused smiles. You would have loved him even if you weren't related. His ability to tell a story and fill the room with laughter will be unmet by any other and missed dearly. Dad now has the opportunity to rekindle the friends and family who have predeceased him and serve as the source of entertainment in heaven…if he could figure out the password to get in… We ask that if anyone sees Dave in a dream about a horse that wins to contact us immediately so we can bet on it. Our Husband, Father, Grandfather, Friend, Confidante would never steer us wrong.
Please join us in celebrating a man the world will gravely miss this Saturday January 15th at high noon at Brownlie Maxwell Funeral Home 1010 E. Palmetto Ave. Melbourne, FL 32901 followed by a reception at Spessard Holland Golf Course. In addition to this we will be scheduling a celebration of life/roast this coming August in Saratoga Springs, NY. All are welcome.
In lieu of flowers please feel free to make a donation to The Parkinson's Foundation or please email the family for updates regarding a new foundation being established in Dave's memory that will save future families from experiencing the same tragedy along the A1A corridor.
21 entries.
Dan, Chip and family, Dave was a good and decent man. I enjoyed the years that I was fortunate enough to work with him. Our sympathy to you and the family as you grieve the loss of your Dad. Chip
We are so blessed to call this special place our home. We are so sorry for the Clark family's loss. Dave was such a great guy! ❤️
I met Dave many years ago when my son Mark met Chip. There was the begining of a life long friendship between these two . There were fun times at Lake George, Saratoga and Melbourne. I will always remember a caring, enterprising man with a wonderful personality and sense of humor..I am truly sorry to learn of his passing. My prayers are with you all.
He will be missed truly great guy!
My friendship with the Clark family goes way back. I am so very pleased that my special friend Michael got to meet and spend some time with Dave in Saratoga during our short visit in September. I told Lisa that we are not able to get to the funeral on Saturday, but we have just booked our trip for August to roast and toast a very dear and special man. Prayers for the Clark family and dear friends...with love Donna
We are so blessed to have known Dave for the past 20 years. We enjoyed his upbeat, loving and kind demeanor. Our garage space is next to his and we looked forward to an exchange of joy and laughter whenever we saw him. So sorry we are Covid up and cannot be there to celebrate the of a truly good man. Prayers for a steady movement through your grief process. Yes, we know Dave is having a grand time. Hugs all around especially to you, dear Cheryl.
Dan and chip. Just had lunch with floran and he told me about your dad. I am at a loss for words to hear the news. I am the Paul that your dad bought the 30 30 Winchester from..to give to his father I believe when he bought the camp back.. I remember ur dad would always pass out a stick on rose when he called on me on Lafayette street. We always joke about that Winchester..I would say to him I never sold you that thing. Hi hi your Dad was the best seeing his picture brought back so many great memories of him..
We wish we had spent more time with Dave at South Shores. It sounds like we could have had some great poker games.
Sending love and prayers to you Cheryl and to all who will miss him dearly. His sense of humor was second to none and that's a memory that I will always hold n my heart.
My sincere condolences to the Clark family and friends. I used to call your dad "The Rose" as he always greeted everyone with a smile at ABCO while I was writing orders. If you were special, you would even receive a small rose. Dave was a true gentleman and respected businessman, God bless Dave and the Clark family. RR
A wonderfully written tribute for a wonderful person. God bless the entire family. Amen.
The outpouring of love and support from friends and family and mere acquaintances speaks to the great man Dave was on this Earth and the legacy he leaves. Love him dearly. Please continue to share your stories with us.
I, Mary Lou, worked with Dave for 13 years for GIMPER and watched his business grow. We live here in Melbourne Beach because of Dave letting us vacation in his home here years ago. It was our pleasure having such a good friend and will miss his personality. Our thoughts and prayers are with his family. Mary Lou & Frank Gerber
With heavy heart… My thoughts and prayers, go out to you and your family. He's now closer to God bringing conditioned Heat and Air to the card table. Bringing y'all even closer to him and the lord, as he holds your hand with every step you take. God bless.
I have always had a special place in my heart for the Clark family. For more years than I can remember they have been a part of both business and pleasure outside of work. Dave will be missed and is remembered as an icon in the HVAC/R business. God bless you all!!
To all of the Clark Family Your Dad was truly one of kind. I met your dad when I was young(er) when my family owned Resco in New Haven, CT. He was kind and a true gentleman. I am truly saddened in learning of his passing. He represented an industry which greatly benefitted from his presence. Dave will be missed
In all honesty, I only know that G. David Clark was a great man through the relationships I have enjoyed with his sons Dan and Chip. May David Rest in Peace. Sincerely, Chuck Eddy
One of the nicest guys I ever met. My thoughts and prayers go out to his family.
It's with such sorrow that we say good bye to such a great man. Dave was a special individual who had the ability to make you feel as if you were the most important person in the room when he was talking to you. He was so gracious and kind without any need for acknowledgement or praise for the generous things he did for others. He found humor in all situations, even those that would make most people cringe a bit. Probably the singe most-loved characteristic I admired and the one family trait I like to think I share with him. And to the Clark family, you should be so proud. He is where he should be, laughing with the Angels. Love and comfort to you all during this difficult time.