John Perry Barnard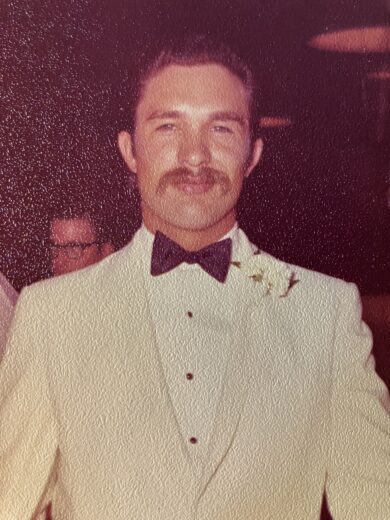 Born on April 3, 1944, in Los Angeles, California
Departed April 14, 2023 in Melbourne, Florida
John Perry Barnard was born on April 3, 1944 in Los Angeles, California to John Moore Barnard of Raisin City, California and Mary Roberta Perry of Fort Macleod, Alberta. Ten months later, his only sibling, Brian Moore Barnard was born. The Barnards lived in Los Angeles and Perry graduated from Belmont High School in 1962. Finances were tight and living in LA taught him to be tough and resourceful. Perry's first job was at Von's grocery where he loved to practice his Spanish skills with customers. He attended Cal State Los Angeles taking classes towards a major in Spanish. When he was 19, his father died of liver cancer which had a profound impact on his life. Perry went to trade school and was a journey man union carpenter and held a welding certificate. He worked on many of the skyscrapers in Los Angeles in the late 60's and early 70's.
Perry was a member of the Devil Fish scuba diving club and did many dives off Southern California, Cabo Pulmo in Baja California, Cozumel, and Isla de las Mujeres. He would bring home lobster, abalone and sea urchins to share with friends and family.
In 1968, during a training session for an Amigos Anonymous trip that he was about to take, he met Mary Kathleen Woolery (Kathy) who had recently returned from volunteering for the Red Cross. Perry volunteered at La Gran Familia orphanage in Zamora, Michoacan. He was hosted by the Garcia de Alba family who had six sons and treated Perry like one of their own, and they always maintained that bond.
Perry and Kathy were married on September 5th, 1970. They lived for a few years in a flat on Catalina Street in Hollywood where they welcomed their first daughter, Heather Kathleen. In 1973, they moved to Alhambra and welcomed another daughter, Marissa Marie. They also made many trips to Mexico during this time with their young daughters, making lifelong connections and friends for the next generation.
In 1977, they decided to leave the smog, traffic and crime of LA for a different life in Washington State and settled in the McCleary area where they lived for 8 years. During this time, Perry loved to fish, raised a few farm animals, and enjoyed the pristine beauty of the Pacific Northwest.
In 1985, they moved to San Antonio, Texas where Perry took a job at Southside High School as a building trades teacher for several years. In 1993, Kathy and Perry divorced. That same year, he married Sharon Cox who encouraged him to open his own art studio and workshop in Wimberley in the Texas hill country. Unfortunately they divorced after 3 years.
During the 26 years that he lived in Wimberley, he made art at Perry's Metal Art that depicted Native American petroglyphs, whimsical masks, outdoor installations, mobiles and so much more. His art adorns the walls and yards of the many friends that he made during his time in Wimberley. He provided his welding skills for friends and customers making beautiful wrought iron gates, custom fireplace screens, chandeliers and other jobs requiring skilled metal work. He made hundreds of toy wooden cars that he would donate to the Chuy's Children Giving to Children parade in Austin and Operation Blue Santa. He loved to give his art to anyone who was kind to him.
Perry met the talented artist Mary Pool when he lived in Wimberley and they collaborated on many beautiful pieces. They dated for 10 years until her death from cancer which devastated him.
He liked to be busy and work with his hands, but he was also an avid reader who loved history, anthropology, archeology and was always on top of world events with a unique sense of humor and a life time of memories that will be missed.
Perry passed away peacefully in Melbourne, Florida due to congestive heart failure after a brief hospitalization on April 14th, 2023 at the age of 79. He was making jokes and being kind to the nursing staff until the very end.
He was preceded in death by his mother, father, brother Brian, Mary Pool and granddaughter Christiane. He is survived by his daughter and son-in-law, Heather and Christopher Rando of Perrysburg, Ohio and their three children, Eva, Daniel and Nina, and daughter and son-in-law, Marissa and Marcos Noriega of Melbourne, Florida and their son Lucas.
Perry was so generous with his time and money, always giving to charities and people in need. If you would like to make a donation in his memory, please consider; The Innocence Project or Jose Andres' World Central Kitchen:
The Innocence Project
World Central Kitchen
3 entries.
RIP cousin. Lots of love Heather and Missy.
I was so sad to hear of Perry's passing but know he lived a full and beautiful life. I love reading these stories. Perry was quite the skilled craftsman. He made the first editions of our Industrial style chandelier bases for our Crystal Antler Chandeliers for Lawson Glass. He helped us from the very beginning. His artistry was top notch. He help us make many prototypes and his work will continue to live on for many generations to come. Perry was always nice to have around a gentle spirit with a kind smile and a funny wit. He was a wonderful friend to all of us here at LWSN (Lawson) . May you find peace in the good memories. Carrie & Jason
Perry was awesome. He was nice enough to send me one of his metal creations, an Indian with a headdress playing a flute. His memory always leaves me with a smile.