Robert M. Pittman, Sr.
Robert "Bob" Pittman, Sr. passed away on October 12, 2021, at the age of 91 after living in Melbourne, Florida for over 50 years. He fought a good fight to the end, and we will so miss his sweet smile that greeted us whenever we were with him.
Bob was a southern boy born in Clayton County Georgia who loved salmon patties, biscuits, and sorghum syrup. He was born on July 14, 1930, and grew up with a big family surrounding him and attending school in LaGrange, Ga. At LaGrange High School, Bob played football and his nickname was "Bull". He got that name from running head down into any player that got in his way of a touchdown.
He met a hometown girl, Thelma Elizabeth, and they were married for 58 years and had 5 children together. His wife, Thelma, and sons Wayne, Mike and Thomas predeceased him. Surviving family includes his son Robert Jr. (Mary Ellen Pittman) and daughter Sharon Sazama (Kevin Sazama) along with 5 grandchildren – Angela Burrows, Amanda Moss, Matthew Sazama, Kyle Sazama, and Wayne Pittman and 8 great grandchildren- Chloe, Anna, Tony, Bradly, Aiden, Liam, Claire, Kinsley and one angel in Heaven, Maidlyn, as well as the many cousins, nieces and nephews in Georgia.
Bob spent 23 years in the military and served in both Korea and Viet Nam as well as traveling to Japan, the Philippines, China, Alaska, and Nebraska. He was stationed for many years at PAFB and met and became friends with many of the original astronauts. He also played softball for PAFB softball team traveling to tournaments and competitions. Bob had many military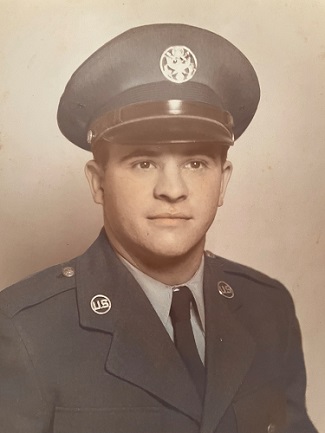 characteristics such as diligence, attention to detail, promptness, and accountability which transferred over to his personal life and values. He joined the City of Melbourne Streets Department and retired there after over 20 years of service.
One of his great pleasures in life was sports and no doubt, his favorite teams were, of course, the Georgia Bulldogs and the Atlanta Braves. Many a game watched, tee shirt worn, and an occasional beer drank in support of these teams. Both Bob and Thelma were avid supporters of the EGHS Booster Club.
Bob enjoyed helping with school sports and would often be seen keeping score for the girl's fast pitch softball at EGHS or working the flags on the sidelines at the football games. He thoroughly enjoyed those moments as well as the opportunities he had to watch his boys and grandkids play sports as well.
But now he is at the top of the mountain – a good and decent man loved by his family, a military man who served his county and supported his community. He will be missed, he wasn't always perfect, but he was our dad, our Papa, our friend and while death may have ended his life, his story lives on. We are all a part of his story.
Please join us to honor Robert M. Pittman, Sr. at the graveside service at 11:00 a.m. on Monday, October 18th at the Eau Gallie Cemetery in Melbourne, Florida.

5 entries.
Amanda condolences to you and your family. May God bless you all.
Uncle Robert now you have all the words to your crossword puzzles!! Love and miss you.
We are so sorry bobbie for your loss we will keep u and your family in our prayers no words can make the loss of a parent or loved one feel the emptyness we feel in our hearts
Bob, I will always treasure my memories of you and Thelma and all of our time spent at Eau Gallie sporting events......I will never forget the time that I climbed the stands to sit with you two at a baseball game and I had a LaGrange High School cap on and it freaked you out and it freaked me out too when I found out that you grew up in LaGrange and played football there.....I hung around you all that time and never knew that we had that in common........I will miss you and can't wait to sit in those bleachers in heaven with you.......Go Commodores, Grangers, Bulldogs and Braves
Daddy you left me with so many wonderful memories. You suffered so long and now your free. I know your wings are big and beautiful so fly high. Be with all your family and loved ones in heaven and have the biggest party ever. We will be together again. I will think of you everyday and I will miss you. I Love you, Sharon